Sun., March 8, 2015
Birders witness eagle v. swan encounter at Reardan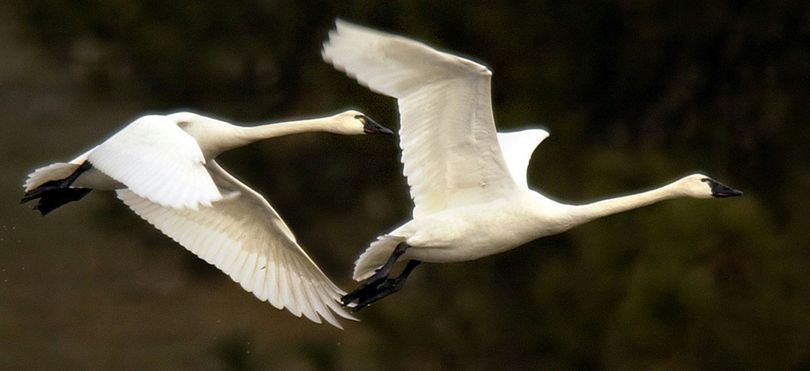 WILDLIFE WATCHING -- The skies of the Inland Northwest are full of life and death drama, even for prey species that range from 10-22 pounds. Here's a field report posted today by Spokane Audubon Society birder Lindell Haggin:
On Friday, I was with a couple people from Inland Northwest Land Trust. We were surveying the new addition to Audubon Lake at Reardan (access is by invitation only). We had noticed Tundra Swans on the pond off Bisson Rd. as we entered and thought we would finish up by getting another view of them from the property. When we took a longer look, we counted about 22 Tundra Swans on the pond.

We were just about to move on when we heard a thud to our right. By the time we looked we saw two Tundra Swans about the land on the lake and one that slammed into the ground and tumbled over two or three times. We couldn't understand how it had misjudged the landing so badly. Then we looked up and saw a Golden Eagle flying just above the swan. The fallen bird was about 150 meters away across a marsh. It struggled to its feet and righted itself with difficulty. When I looked with binoculars I saw blood streaking its back. It finally sat down, unable to move towards the water.

When we looked up a second time we saw there was a pair of Golden Eagles circling. We left the area hoping that the loss of life was not wasted. A very powerful event.
---
---