Mon., March 16, 2015
Wolf bills still lurking Washington Legislature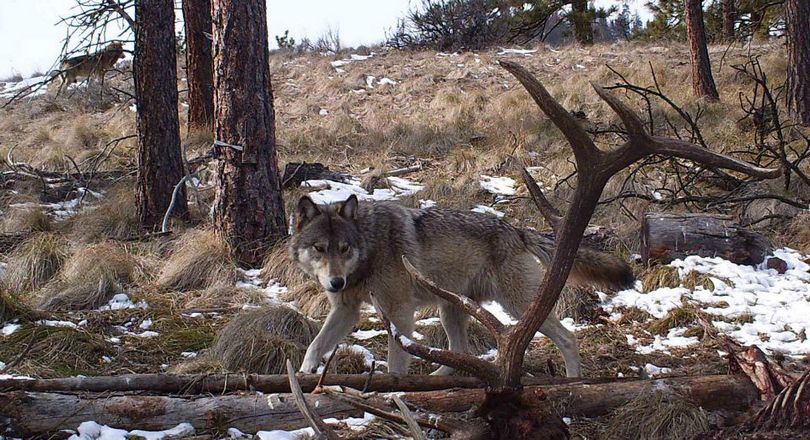 WILDLIFE -- Several of the wolf-related bills introduced in the 2015 Washington Legislature are still alive.
S-R Olympia Bureau reporter had this update.
A day later, the Wenatchee World ran this update moved by the Associated Press:
OLYMPIA -- State lawmakers in both the house and senate passed bills dealing with wolves that are sponsored by Republicans from northeastern counties, where the rapidly increasing wolf population is taking its toll on domestic sheep and cattle.

If they become law, the bills would direct the state to reconsider parts of the state's wolf recovery plan, examine the impact of wolves on deer, elk and other game animals, and allow endangered species - including wolves - to be removed from the state's endangered status on a regional instead of a statewide basis.

Sponsors of the bills include Reps. Joel Kretz and Shelly Short, Sen. Brian Dansel, who represent counties in Northeastern Washington, where 12 of the state's 16 wolf packs live.

Kretz said the bills unfortunately don't address the immediate problems of livestock owners who have had the largest burden of helping wolves recover. Two of the bills he and Short sponsored got unanimous votes by the House on Tuesday. Kretz said when he first approached Democrats for support early in the session, "They would not even talk to me. To get a unanimous vote on something, it was a long pull on that," he said.

Mitch Friedman, Conservation Northwest's executive director, said his group initially opposed Kretz's bill that calls for reopening the states' wolf recovery plan, because they believe that plan is solid. But, he said, the House agreed to some changes in the bill which enabled them to support it. "It's not perfect. Nobody got everything they wanted, but there's something in it for everybody," he said.

The Senate version lacks key compromises contained in the House bill, and Conservation Northwest does not support it, he said.

Both bills require the state to take another look at its wolf recovery plan and use the most updated available science to recommend changes.

Those changes could include:

Whether recovery should be based on the number of wolf packs instead of breeding pairs.

More options for removing wolves from endangered status.

Whether the three recovery zones should be changed, reduced or consolidated.

Finding reasonable prevention measures for livestock owners.

Reviewing current conditions that lead to killing wolves that have killed livestock.

Whether the current enforcement and penalties for poaching wolves are sufficient deterrents.

Friedman said the added language about poaching - which is not in the Senate bill - is among the reasons Conservation Northwest now supports it.

Legislative support for these bills comes less than a week after the state Department of Fish and Wildlife announced a 30 percent increase in the number of wolves it believes are now living in Washington. Four new packs were also discovered.

The agency says at least 68 gray wolves now roam the state. There are 16 wolf packs and at least five successful breeding pairs.

The number of confirmed wolves in North Central Washington actually dropped slightly, from 13 to 11. The Wenatchee Pack remained stable at two wolves, the Lookout Pack near Twisp dropped from five wolves to four, and the Teanaway Pack south of Wenatchee dropped from six wolves to five.

Fish and Wildlife spokesman Craig Bartlett noted those are only the wolves the agency managed to confirm, and tracking was difficult this winter due to low snow levels.

Under the state's current wolf plan, wolves can be removed from the state's endangered species list when 15 successful breeding pairs are documented for three consecutive years, distributed among three wolf-recovery regions.

Despite the increase in the number of wolves, the number of documented breeding pairs has remained at five for the last three years, all in either the North Cascades or Eastern Washington area. No wolf packs or breeding pairs have yet been documented in the South Cascades and Northwest Coast recovery region.
---
---