Tue., Nov. 3, 2015
Options limited for Heller Bar additional boat launch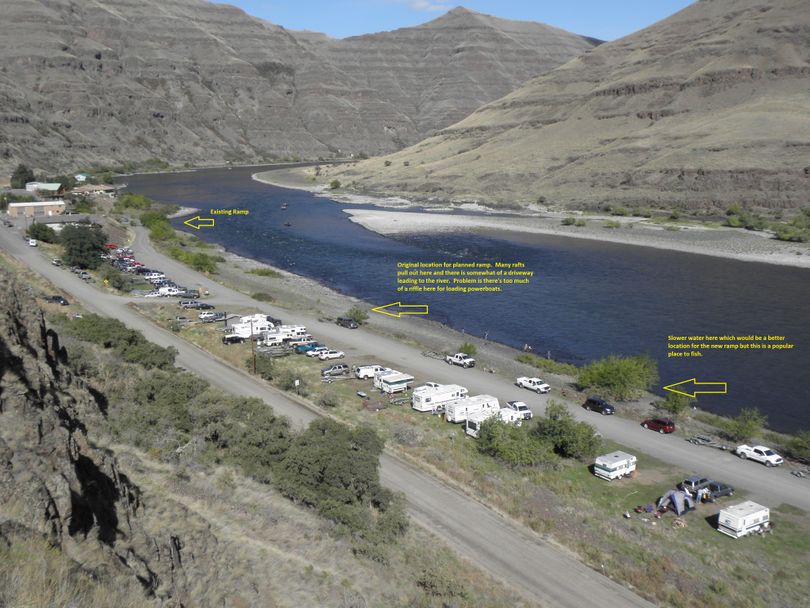 FISHING -- A new boat ramp being planned on the Snake River at Heller Bar will help reduce boat launching congestion, although it could interfere with a prime steelhead shoreline fishing area.
"I saw the surveyors recently in a favorite spot just downstream from the mouth of the Grande Ronde River," said Spokane angler James Rice. "It's a popular place to fish because the water is just the right speed for fish and for wading."
Those slower flows also create an attractive site for adding a second launch ramp at the public access site. Heller Bar, 23 miles upstream from Asotin, is managed by the Washington Department of Fish and Wildlife.
"We're still studying where the second ramp will be built," said Bob Dice, the agency's Blue Mountains Wildlife Area manager based in Clarkston.
"There aren't a lot of options. If we simply widen the existing ramp at the north end of the bar, we'd still have the bottleneck and traffic congestion when boaters and rafters are trying to launch and take-out," he said.
Two years ago, the state spent $14,000 improving the existing concrete ramp.
Another possible site involves a riffle that would cause difficulty for getting a boat on a trailer, he said.
In 2012, Dice proposed a second launch for non-motorized craft to help reduce the crowding that's especially notable in summer and fall. State funding was denied for that request.
A second proposal last year was accepted for a ramp that could be used by both powerboaters and rafters. The state Recreation and Conservation Office has granted $324,500 for the new ramp along with upgrading, signing and graveling the entire Heller Bar access site and camping area, Dice said.
"We're going to get input from our fisheries staff," Dice said. An engineer was scheduled to checkout the area Monday.
"Quite a few steelheaders were fishing there recently when our survey crew was working there. The fishermen were asking what they were doing.
"Some fishermen say they'd be able to move up or down from a new ramp and be just fine.
"None of our options is perfect for everybody."
---
---