Image of bluetongue-inflicted deer worth 1,000 words, but explanation still needed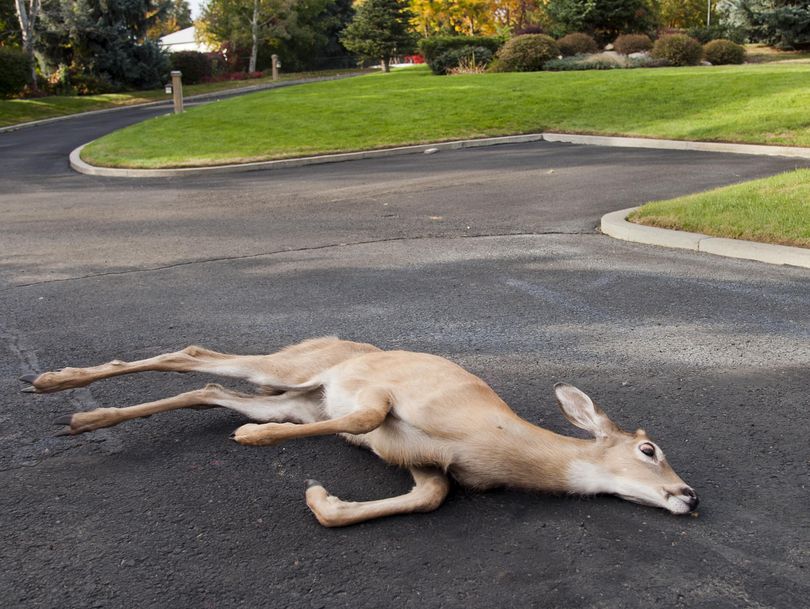 WILDLIFE -- My Saturday front-page story about the drought-stoked outbreak of bluetongue that's killing hundreds of deer in the region caught some attention on Saturday, and so did the accompanying photo of a dying white-tailed deer.
Some people are criticizing The Spokesman-Review for publishing the photo (above) of a diseased deer in its last hours of life. One email I received from a concerned woman says in part:
I am reacting quite adversely to the front page photo of a deer hanging onto "Deer Life". The cause of such suffering was explained within the article but does not translate to me as humane in the depiction of its demise....

Certainly whoever made this macabre decision should be told how disturbing the image is to anyone within our humane society.
I appreciate that she and others took time to write their notes. It keeps the media aware.
Newspaper editors carefully consider the photos we use, especially when they deal with graphic material. We don't use many photos like the one of the dying deer. The situation in this case caused us to make an exception.
The story is serious: The most widespread outbreak of deer-killing disease in the memory of area wildlife professionals. The disease has been confirmed in Eastern Washington, northcentral Idaho and northeastern Oregon.
We were planning to use a file photo of a live white-tailed deer. But as I was finishing the story at about 4 p.m. on Friday, we received a call from a homeowner distraught that a deer was dying in his driveway. Photographer Dan Pelle rushed out and documented the case. That's what newspapers do.
We know some people will be offended by just about anything we run, whether it's a photo of the president or Sunday's front page photo, and moving story, of the elderly woman who fell and bruised her head and face, a tough blow to her will to help her dying husband. Sometimes we have to make difficult calls.
We also know that most of our readers appreciate our attempt to tell it like it is within limits. We don't show graphic photos of crime victims, for example, but the parameters broaden in the cases of war.
When we've done stories about the bloody carnage and high toll of road-killed animals we have been very careful in how we illustrate the story. Our readers aren't big on seeing blood, and neither are we.
The white-tailed deer Pelle photographed Friday was dying, bleating and graphically playing out its last hours. It was gut-wrenching for him and for the homeowner. This wasn't happening out in the country but rather in a Spokane neighborhood where kids walk the sidewalks.
This is news the public should know. More than 70 deer dead from bluetongue have been picked up from the city streets of Colville alone in the past six weeks.
Pelle's photo is not bloody, but it's real. When in doubt, newspapers are best off to tell it like it is.
People who want to go farther in learning how ugly bluetongue is in killing whitetails can Google it on the Internet and get some VERY graphic images. We didn't go that far.
I've also heard from readers who say the photo will traumatize kids. I don't buy that.
Kids are capable of understanding the ways of nature. Kids routinely see road-killed animals, including flattened squirrels on the city streets as they walk to school.
Savvy adults would see that photo -- or a dead deer in the neighborhood -- as a teaching moment.
Nature taking its course in a disease outbreak and the survival of the fittest -- and perhaps the related issues of drought and climate change -- are topics that make good lessons for all of us.
---
---