Tue., Oct. 20, 2015
Deer check stations indicate hunters fared better on opening weekend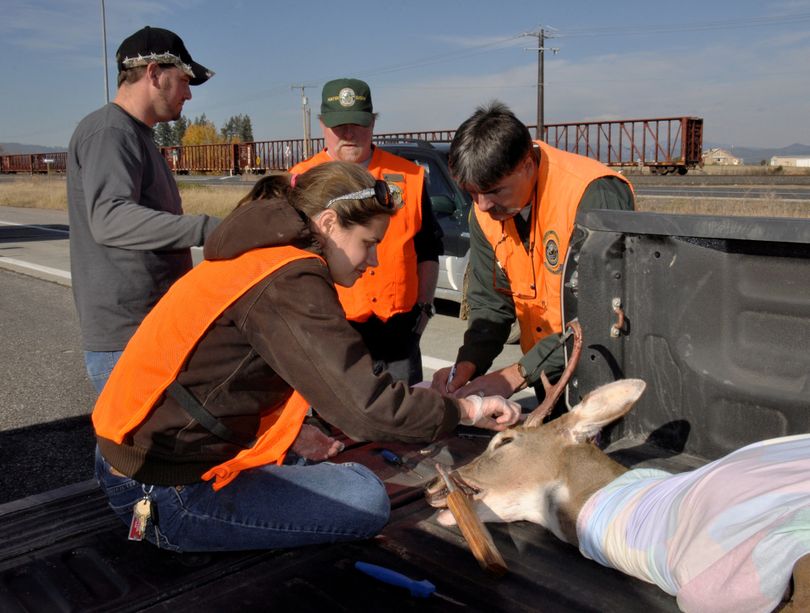 HUNTING -- Deer hunters out for last weekend's opening of the general modern rifle deer season in northeastern Washington seemed to have more success compared with the 2014 opening weekend, partly because of rule changes.
The sample taken Sunday at two hunter check stations is too small on a given weekend for statistical validity, but over the course of the season the biologists and volunteers get useful information on a lot of fronts, including overall deer health monitoring, said Dana Base, Washington Department of Fish and Wildlife district biologist in Colville.
Base provided the following numbers.
The Deer Park station on Highway 395 checked 88 hunters with19 whitetails, 3 mule deer (also a bobcat and black bear).
That compares with 81 hunters in 2014 who had eight whitetails and 1 mule deer.
The Chattaroy station on Highway 2 checked 74 hunters with 13 whitetails and 1 mule deer (also waterfowl and a moose). The Chattaroy station was not staffed on opening weekend last year.
Part of the reason for the increase in opening weekend harvest was the change in rules that allowed youth, senior and disabled hunters to shoot an antlerless whitetail. That opportunity wasn't allowed until the last four days of the season last year.
Deer Park's breakdown on whitetails was 10 bucks. The additional 9 does were taken by youth and senior hunters.
Chattaroy's whitetail breakdown included 7 bucks and 5 does and 1 fawn. Again, the antlerless deer were taken by youths and seniors.
The other major difference from last year is the elimination of the four-point minimum rule for whitetail bucks in Game Management Units 117 and 121 that had been enacted in 2011.
The breakdown of whitetails at the Deer Park check station includes 10 bucks, 7 of which were adults and 3 were yearlings. Their antler point and GMU in which they were killed include:
A 4x4 in GMU 108, a spike in 109, a 5x4 in 117, another 5x4 in 117, a 3x4 in 117, a 6x4 in121, a 4x3 in 121, a 1x3 in 121, a spike in 121 and a 3x3 in 124.
The breakdown of whitetails at the Chattaroy check station includes 7 bucks, 4 of which were adults and 3 yearlings. Their antler point and GMU in which they were killed include:
A 2x3, a 2x2 and a spoke in GMU 113 and a 4x4, plus 2 spikes and a buck with antler size not recorded from GMU 117.
Bottom line:
Four or five of the 17 whitetail bucks checked on Sunday would not have been legal to shoot last year under the four-point minimum in units 117 and 121.
No more than a couple of the 15 antlerless whitetails taken by youth and seniors checked on Sunday would have been legal on opening weekend last year.
Biggest deer killer:
Check station staff and volunteers were taking measurements and tissue samples for a multi-year study of white-tailed deer in northeastern Washington. They also took samples for bluetongue to continue with the monitoring of an outbreak that has killed thousands of whitetails from Colville south to Grangeville, Idaho, in the past two months.
But vehicle collisions continue to be a major factor in deer mortality.
Base said he asked Deer Park check station volunteer Jim Kujala to drive north on Highway 395 to pick up five road-killed deer carcasses Base had spotted on the drive to set up the station.
"We thought we'd get more sampling for the study that way," Base said. "But Kujala was late getting back because he just kept finding more dead deer along the highway -- 13 in all between Deer Park and Arden. And those are deer killed just in the (40-hour period) after the DOT highway crew went through and picked up dead deer on Friday."
---
---