Tue., Sept. 8, 2015
St. Regis River stretch runs dry in 2015 drought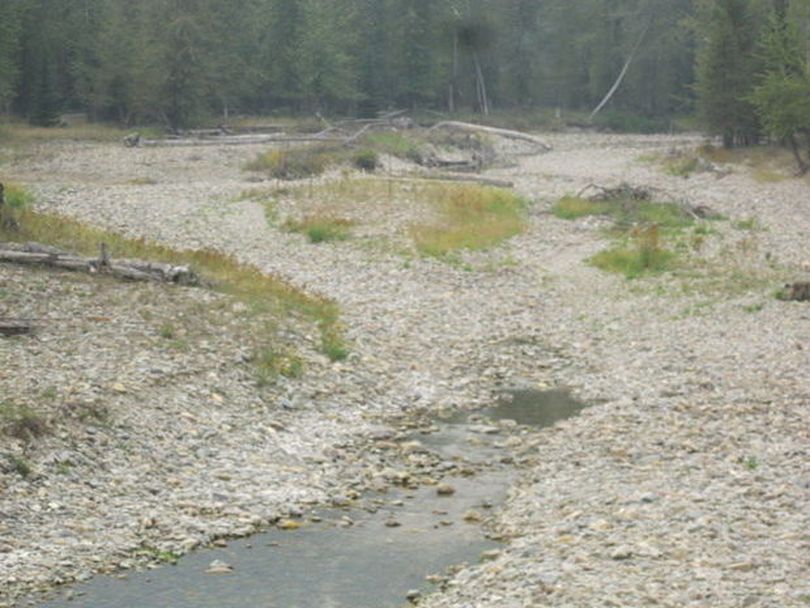 RIVERS -- The fishing report for about 100 yards of the St. Regis River near Haugan was pretty bleak last week because -- the stretch went dry.
The river flows from the Lookout Pass area east to the Clark Fork river at the town of St. Regis.
Denley Loge, who has lived in the area for more than 40 years, told The Missoulian, "I've never seen the river just run dry. Most people I talk to are saying t he same thing, that it's the lowest they've seen."
Actually, the river banks 90 degrees toward Interstate 90 in that area and the river goes into the gravel and underground emerging with decent flow downstream.
Loge, who works for the Montana Department of Transportation, said he watched the river go down steadily in July and August and predicted it would go dry in that stretch. Rain in the last weekend of August restored the river to a trickle in that area, Missoulian reporter Kim Briggeman wrote.
Ladd Knotek, a state Fish, Wildlife and Parks fisheries biologist, said the St. Regis and most other Western Montana streams are at low levels he's seen once, twice or never before in his career.
Low water reduces the carrying capacity of a river for good fish habitat, and is especially deadly to young fish that are very territorial and can perish when a river gets too low -- or goes dry.
---
---