Wed., Sept. 9, 2015
Wildlife officials surveying impact of Okanogan wildfires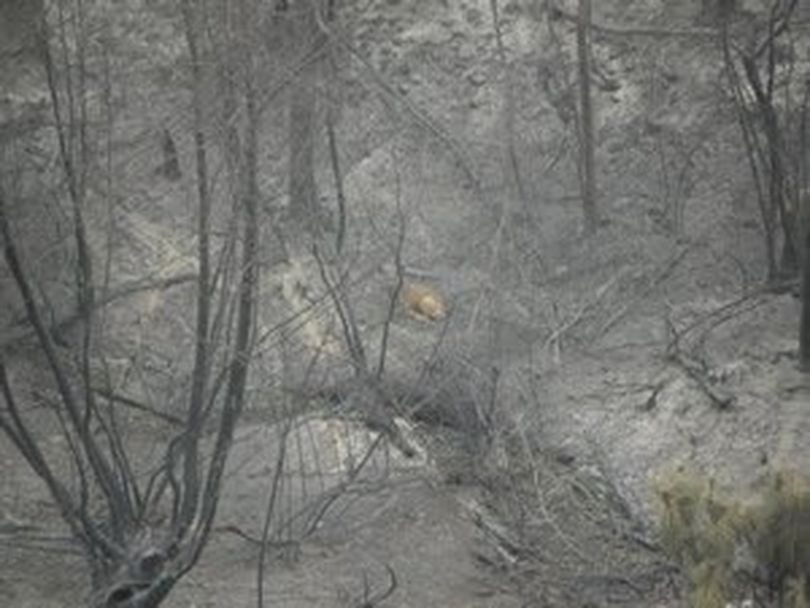 WILDLIFE -- For the second straight year, state wildlife managers say they are scrambling to assess the damage caused by a massive fire affecting four state wildlife areas in northcentral Washington.
The harmful and in some cases beneficial impacts to fish and critters could play out for years.
Following is an update on the wildlife angle of the fire from the Washington Department of Fish and Wildlife.
Since mid-August, this year's record-setting Okanogan Complex fire has burned more than 300,000 acres, destroyed more than 100 homes, and killed three firefighters. Now 70 percent contained, it is one of several major wildfires still burning in the region.
The department currently estimates that flames have scorched more than 25,000 acres of wildlife lands maintained by the department for wildlife and outdoor recreation in Okanogan and Chelan counties.
That exceeds the amount of state wildlife land burned by last year's Carlton Complex fire by about 1,000 acres, said Jim Brown, WDFW regional director for northcentral Washington.
"Several wildlife areas are completely burned over," Brown said. "The vegetation that supports deer, sharp-tailed grouse and other wildlife is gone. I'd call it deja vu, except that this year's fire took a different path and has aggravated the problems we've been working to address since last year."
This year's damage to WDFW lands was concentrated in nine units of the Scotch Creek, Methow, Chelan and Sinlahekin wildlife areas, Brown said. In some areas, trained department staff worked alongside regular firefighters to control the blaze.
Those four wildlife areas support thousands of deer, many of which will seek food outside the areas scorched by wildfires, said Matt Monda, WDFW regional wildlife manager. Like last year, the department plans to work with landowners to protect their crops from deer displaced by the fire, he said.
"We know we need to take additional steps to align the herds with available habitat," Monda said. "That effort will involve allowing the habitat to recover and minimizing conflicts between deer and agricultural landowners."
Hunting seasons for archers are under way, and WDFW may draw from its existing list of special-hunt applicants to increase the number of modern-firearms permit hunts in October, Monda said.
Big game numbers must be kept in balance with the reduced carrying capacity of the land to prevent starvation or concentration of wildlife on private irrigated fields.
Brown encourages hunters to take advantage of those hunting opportunities, but recommends that they check local access restrictions before they leave home. Key contact numbers in Washington are included on the state wildfire resources webpage.
In the months ahead, the department will consider setting up localized deer-feeding stations and other measures to protect agriculture crops on a case-by-case basis, Brown said.
"There are a lot of good reasons not to feed wildlife, but we'll assess each situation on its merits once we have a better idea of the environmental conditions in fall and winter," he said.
Meantime, officials say they will continue to update damage assessments as a first step toward qualifying for federal disaster relief. Besides burning thousands of acres of wildlife habitat, the fire has destroyed 90 miles of WDFW boundary fencing, several outbuildings, and hundreds of informational signs.
Also damaged were two of the three pastures in Okanogan County that WDFW leased to livestock producers displaced by last year's fires.
"We want to help our neighbors whenever we can, but I don't know whether we'll have any grazing areas available this year," Brown said.
Looking ahead to the fall rains, Brown recommends that area landowners promptly assess their own properties to determine whether fire damage has clogged culverts, destabilized slopes, or created other dangerous situations. If so, landowners may qualify for an emergency permit - called a Hydraulic Permit Approval (HPA) - to address risks in or around state waters.
Landowners in northcentral Washington seeking more information on emergency HPAs can contact WDFW at (509) 754-4624.
"These record-breaking fires will have a major impact on both the wildlife and the human residents of northcentral Washington for years to come," Brown said. "The vegetation will eventually grow back and the wildlife will return, but we all need a break from these massive fires."
---
---