Fri., Sept. 25, 2015
She did it again! Anish sets self-supported Appalachian Trail hiking record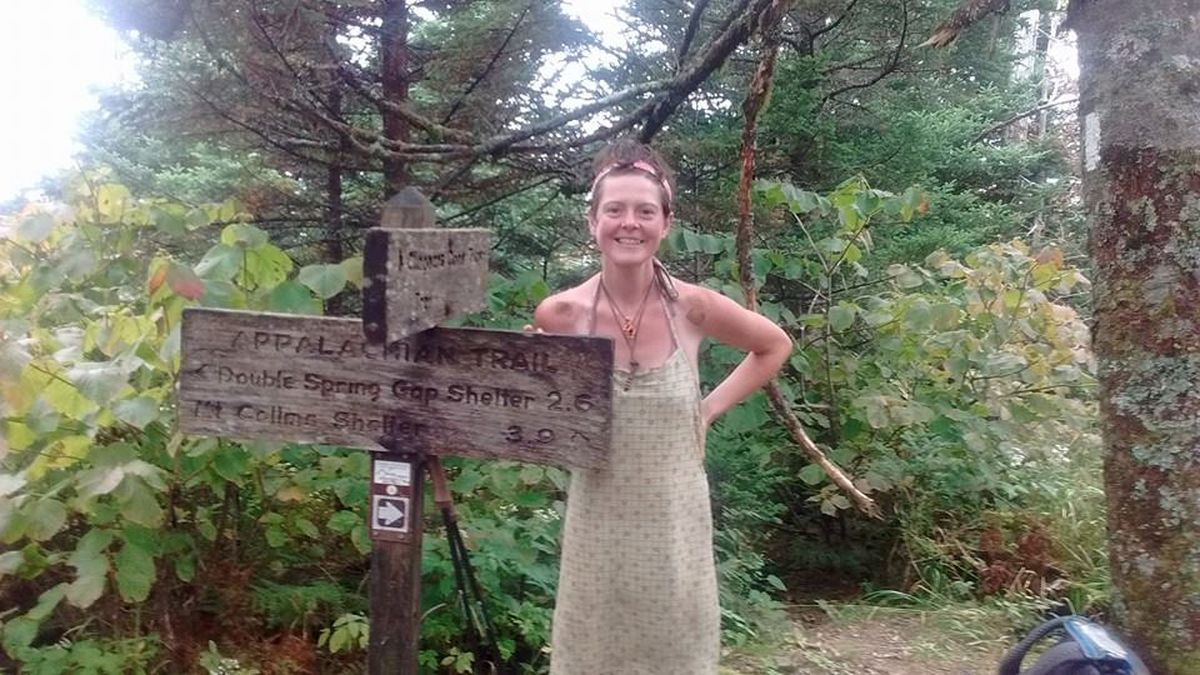 Heather Anderson, trail name Anish, poses on the Appalachian Trail en route to setting an unsupported backpacking speed record for the Maine-to-Georgia route on Sept. 24, 2015. (Courtesy)
HIKING -- A 34-year-old Seattle woman on Thursday set a UNSUPPORTED backpacking speed record for hiking the 2,189-mile Appalachian Trail through 14 states from Maine to Georgia in 54 days, 7 hours and 48 minutes.
Heather Anderson, trail name Anish, is no fleeting moment in trail-record history. In 2013, she set the unsupported backpacking speed record for the 2,663-mile Pacific Crest Trail from Mexico to Canada in 60 days, 17 hours and 12 minutes.
Her record attempt last year on the John Muir Trail in the Sierra-Nevada Range came up short.
However, on Thursday, after averaging 42 miles a day for nearly two months, she said she walked off Springer Mountain in southern Fannin County, Georgia, the way she started the odyssey on Maine's Mount Katahdin -- alone.
Anderson is the first person to hold the unsupported record on the Appalachian Trail and the Pacific Crest Trail simultaneously.
To achieve the self-supported status, she packed her food and mailed it to food drops along the way, collected what she needed herself, and carried her own supplies, water and shelter on the trek.
Anderson announced her record setting quest on July 30 about two weeks after ultramarathoner Scott Jurek, 41, finished the Appalachian trail in a supported speed-record time of 46 days, 8 hours and 8 minutes. Jurek had a team of handlers shuttling his gear and supplies along the route.
She used a SPOT device to document her journey, but did not release the data until she had completed the trail to retain her privacy.
According to Appalachian Trails, Anderson has broken the AT unsupported record set in 2013 by Matthew Kirk in 58 days, 9 hours, and 38 minutes (check out his book Fast, Light, and Free on the Appalachian Trail).
The previous women's unsupported record was held by Liz 'Snorkel' Thomas, who hiked the trail in 80 days, 13 hours, and 30 minutes.
The women's supported speed record was set in 2011 by Jennifer Pharr Davis in 46 days, 11 hours and 20 minutes.
Anderson's life story is compelling. Considered unathletic as a youngster, she wrestled with weight issues until she discovered her love for backpacking. She hiked the AT, the PCT and the Continental Divide Trail all at a normal backpacker's pace to rank among the elite who have bagged the Triple Crown of long-distance hiking. But even after taking the leap from enjoyable hiking to the suffering of AT and PCT record-setting odysseys, she's been pestered by self doubt, and competitive doubters.
She politely asked me to be quiet and take down my post when I put up a photo in July of her bedroom stacked with food boxes ready to be mailed and leaked her intentions to attempt an AT record.
And she had no fanfare or champagne at the end of the trail after her record mark was set.
"I may be sleeping in a bed for the first time in 54 days, but I'm still drinking from my hydration bladder!"
With minimal body fat clinging to her frame, wearing her signature feather-light sun dress and needing a long uninterrupted sleep to begin life off the trail, an exhausted Anderson posted on her Anish Hikes Facebook page the following philosophical wrap-up. It's directed to her fans and the little devils who try to haunt her:
The trail has a way of answering the questions you most need answered, even if you are afraid to ask.
Those that have followed me for a while know that I have s...truggled with self-esteem my entire life. You would think setting the PCT speed record would change that.

Yet it only gave the negative thoughts an even more insidious way to demoralize me, especially after I failed to set the JMT record last year.

"The PCT was a fluke. You were only the benefactor of lucky circumstances. You aren't athletic. You aren't able. You're a charlatan."

On and on the whispers go.

I had to come here, to the AT, where my quest to find myself began 12 years ago and face those voices once and for all, alone.

I was too afraid to ask, but the trail knew the question in my heart:
"Was the PCT a fluke?"
The AT answered with a resounding, "NO!"

I wrestled not against the trail or external forces, but with them. If it were easy the whispers of inadequacy would continue. Instead I was challenged every single minute.

In the dark hours when I was tired, lonely, and hungry, that is when the demons came, "Why didn't you stop with the PCT record? It will be your greatest achievement in life. You won't ever do anything else. Now you're out here and you're in over your head. You will fail. You can't do this. And everyone is going to know that you are nothing."
But, every footstep I took was a choice. A choice to face my own perceived inadequacies. Every footstep was a commitment. A commitment to deny that there was any truth to the words of the internal foes.

As the miles dwindled into the double digits I became aware that I was crushing more than miles. I was crushing a lifetime of self defeating beliefs.

So now, I walk off of Springer Mountain, alone just as I came. My pack, my feet, and my heart are light, unburdened at last.

And, I am aware that the end of every journey is simply the beginning of the next and that, far from being behind me, the greatest achievements of my life lie ahead.
See Anderson "Redefining Happily Ever After" in a TEDx Talk.
---
---