Tue., Sept. 29, 2015
Bears looking high, low in search for calories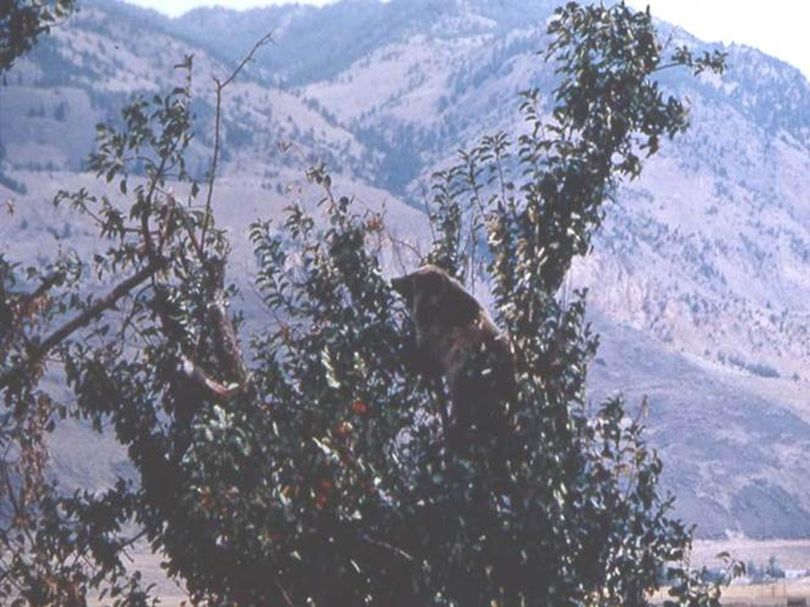 WILDLIFE -- Wildlife officials were warning the public about hungry bears probing lowland areas for food before the black bear attack on a woman in her home near Kalispell and another grizzly killed by a vehicle -- both in the past week.
Bears are desperately looking for food in the wake of a poor berry year in a drought-weary region.
"We've got grizzlies getting into everything from seed spuds in the fields outside of Ashton (Idaho) to apple trees in people's yards," said Charlie Anderson, Idaho Fish and Game Department conservation officer.
The North Idaho and northeastern Washington areas also are experiencing significant lowland bear activity, officials say.
The bear attack on the woman near Kalispell could be related to bears being lured into an area by bird seed, wildlife officials say in an initial statement.
Here's an explanation and a plea from IFG bear experts:
Before bears enter into hibernation, they go through a period where they try to gain as much weight as possible. The Latin term for this time is "hyperphagia" and basically means to pig out. Bears are incredible omnivores and will seek out a surprising diversity of foods in order to gain the needed stored energy to survive the winter. Certain grizzly bears in the Yellowstone Ecosystem actually gain much of their needed winter weight by gorging on up to 40,000 army cutworm moths per day. These moths head to mate on the high talus slopes east of Yellowstone National Park and are among the bear's highest calorie food!

It is important that anyone living in bear country not only keep their garbage stored properly, but makes sure that natural food attractants like windfall fruit are kept picked up. Even keeping an immaculate orchard is no guarantee of preventing problems, numerous reports exist of bears climbing into trees to pick apples or breaking off limbs. Making sure that bears are not surprised by humans is a good first step in reducing conflict. Turning on yard lights and making lots of noise are also good way to alert a bear of your presence.
---
---