Wed., Aug. 3, 2016
Cattle-killing wolves to be shot in Ferry County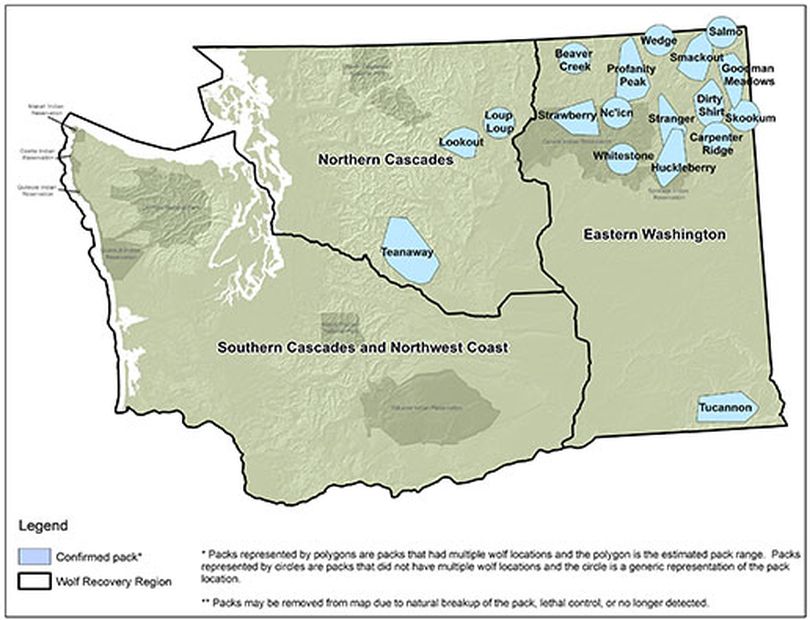 UPDATE, Aug. 4, 11:45 a.m. -- The number of cattle confirmed killed by the Profanity Peak Pack has been increased to five, according to an email from Washington Fish and Wildlife officials this morning.
ENDANGERED SPECIES -- Lethal removal of a portion of the Profanity Peak Wolf Pack in Ferry County has been ordered by Washington wildlife managers after four confirmed kills on cattle since early July and three probable cases.
Stepped-up efforts to protect the northeastern Washington livestock and deter wolf attacks have been unsuccessful, said Donny Martorello, state Fish and Wildlife Department wolf program leader.
A protocol must be followed before moving to the last resort of killing wolves, which are still protected by state endangered species rules, he said.
The Profanity Peak Pack is one of 19 wolf packs confirmed in Washington, where the species is making a comeback.
A calf was confirmed today as being killed by wolves pushing confirmed kills to four and triggering the decision, he said.
WDFW Director Jim Unsworth authorized lethal removal of a portion of the pack. The number of wolves to be removed from the pack, which totals at least 11, has not been determined, Martorello said.
The cattle killed on public lands grazing allotments in the Sherman Pass area belong to the Diamond M Ranch, which suffered confirmed wolf attacks on cattle by the Profanity Peak Pack in 2014.
"The purpose of lethal removal is to stop wolf depredations from continuing in the near future by disrupting the pack's pattern of activity and reducing its food requirements," he said.
"We expect to begin the effort very soon, depending on weather and related environmental factors," he said, noting that removal options include shooting from a helicopter, trapping and shooting from the ground.
This will be the Fish and Wildlife Department's third mission to remove wolves since the predators began recolonizing Washington about a decade ago. Two of the efforts have involved Diamond M Ranch cattle.
---
---