Wed., Aug. 24, 2016
Recreational dam builders block fish passage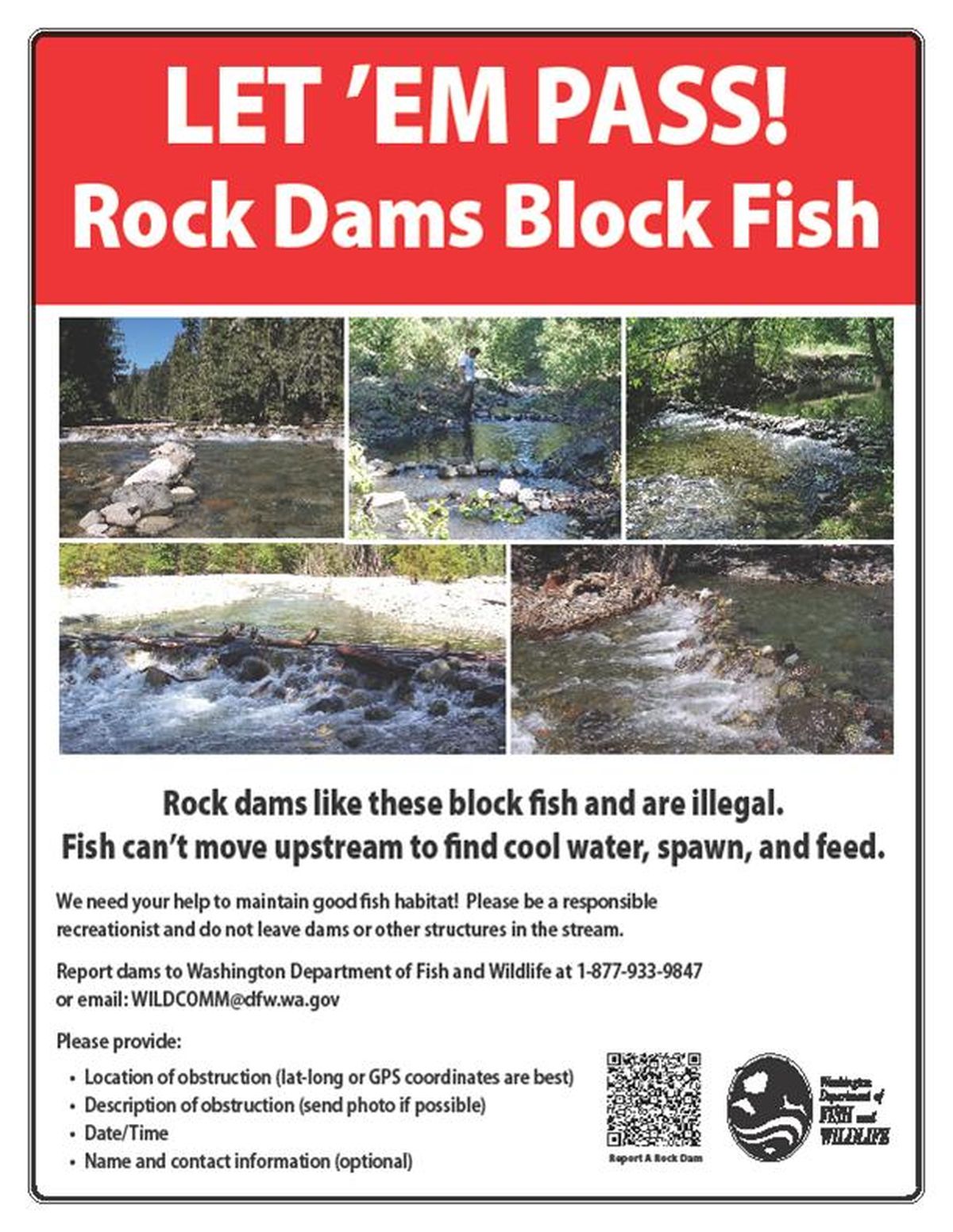 Posters help educate stream visitors about the consequences of building rock dams on streams. (Washington Department of Fish and Wildlife)
UPDATED 11 a.m. with comment on this post from state fisheries staffer at end.
HIKING -- Every hiker can enjoy a dip in a cool stream on a hot day, but remember, fish need cool water more than we do.
Building dams out of rocks and logs to form a swimming hole technically is illegal on streams, and the explanation is easy: they inhibit fish migration and can cause flooding.
A Spokane Mountaineers volunteer trail maintenance crew had a some unexpected work to do on a recent mission to Marie Creek Trail, which is north of the Wolf Lodge and the northeast end of Lake Coeur d'Alene. They're used to clearing brush and hacking out a path, said club trail work coordinator Lynn Smith. But rock dam removal is not a common chore.
"It was a bank-to-bank construction that looked way more involved than just kids rearranging some stream rocks on a family hike," Smith said.
"At this time of year the water is lower and warmer with less oxygen, so the fish we saw in the wide shallow pool needed to be able to move around to find optimum conditions.

'Plus, during spring runoff, both banks will be eroded as water is forced around the dam.

"We did leave some stepping stones but left the stream free-flowing, not strained through the rock dam.

"Plus there are a lot worse ways to spend part of a hot dusty day than wading in a mountain stream."
Here's a tip of the hat to that volunteer crew!
Following is a comment from Washington Department of Fish and Wildlife drought coordinator Teresa Scott, who read my original post aboveand wanted to emphasize that that they can cause significant issues for fish.
Thanks so much for this piece on rock dams. These last few years, with air temperatures higher earlier, the "normal" rock dams load has exploded in Washington. WDFW and partners like the Mid-Columbia Fisheries Enhancement Group monitor for rock dams in the upper reaches of east side streams, but there's never enough staff capacity to get to all the likely locations....

These recreational rock dams appear pretty much where ever there is stream access. This is such a difficult issue, because WDFW wants people to feel connected to their local natural areas.

Many of us started our careers as junior hydraulic engineers, so we get how fun that is, and where that love of water, creeks, and fish can lead.

But you said it: fish need to be able to move up and down stream to find cool water and eventually to spawn.

My best advice is for people who encounter rock dams in Washington to call, text, or email WDFW's non-emergency poaching/violations hotline system to report the location, and we will do what we can to get those dams passable.

See poster in photo gallery above for phone and text numbers

Email reporting should be sent to: reportpoaching@dfw.wa.gov
---
---