Mon., Aug. 29, 2016
'Bullwinkle' elk killer's trial set for Oct. 14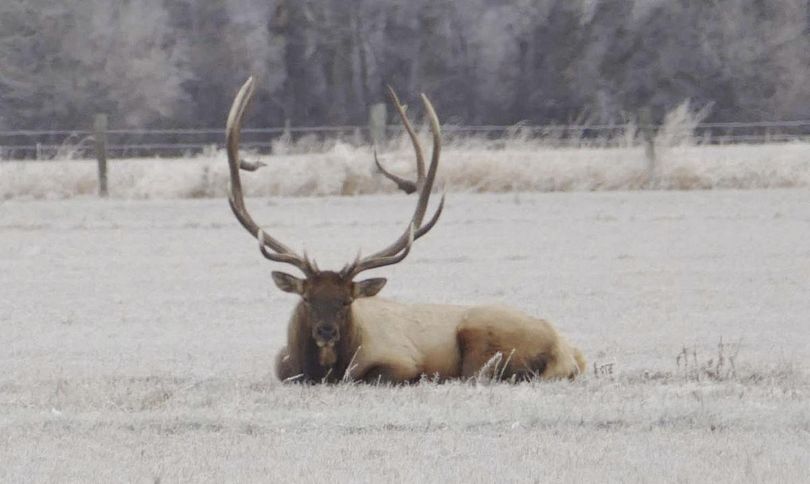 HUNTING -- An Oct. 14 court date has been set for the wealthy Washington hunter accused of shooting a well-known Ellensburg trophy bull in an area closed to hunting branch-antlered elk.
Kittitas County District Court Judge Jim Hurson last week denied a second motion to dismiss the case of a Salkum man who faces charges for illegally shooting the somewhat tame bull elk some locals called Bullwinkle.
However, the trial date already has been postponed, potentially giving the hunter a chance to use expensive elk tags he purchased at auction this year. If convicted of the charges, he would lose hunting privileges.
Tod Reichert, 76, is charged with second-degree unlawful hunting of big game, a gross misdemeanor, which can carry the possibility of fines and a two-year suspension of his hunting privileges. He has pleaded not guilty, reports Julia Martinez of the Daily Record in Ellensburg.
Spokane-based attorney for Reichert, Stephen Hormel, filed a motion to dismiss based on prosecutorial mismanagement. The key witness in Reichert's case, David Perkins, faces charges of second-degree aiding and abetting, or as a principal, with unlawful hunting.

Perkins is a local hunting guide and Reichert's hunting companion. Reichert is considered a disabled hunter and is allowed to have a companion hunter.

The act of charging Perkins, Hormel wrote, prevents Reichert from using Perkins as a primary witness. According to court documents, Perkins was going to testify that he called the Washington Department of Fish and Wildlife to obtain permission to harvest the bull.

The elk was well known in the Fairview District near Ellensburg, and was known to wander around hay fields and yards. The case has attracted statewide attention.

Hurson said he did not find any prejudice on behalf of the state prosecution and denied the motion.

"Another way of looking at it is that by filing against Mr. Perkins, it now makes it so Mr. Reichert can clearly bring his defense by calling Mr. Perkins if the cases are joined or if Perkins' case goes first," Hurson said.

Without a prosecution, Hurson said, there is a chance that Perkins would invoke his Fifth Amendment right to remain silent and not incriminate himself.

"I know that seems like an odd twist in the whole thing," Hurson said, adding that Perkins' prosecution will help Reichert present his case
---
---