Tue., Dec. 13, 2016
Zinke may have Trumped McMorris Rodgers for Interior secretary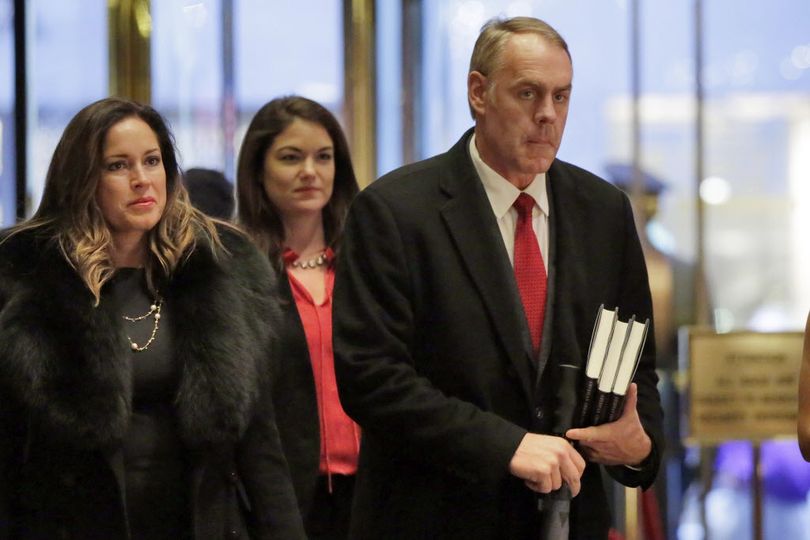 PUBLIC LANDS -- The Washington Post is reporting this afternoon that President-elect Donald Trump has decided on first-term Montana Rep. Ryan Zinke as his Secretary of the Interior – not Idaho Rep. Raul Labrador or Washington Rep. Cathy McMorris Rodgers.
"This isn't the official word." reports S-R Boise Bureau reporter Betsy Russell, noting that the Post reports that "Trump has tapped" Zinke, "according to an individual with first-hand knowledge of the decision."
Politico reports this afternoon that:
President-elect Donald Trump has offered the interior secretary position to Montana's freshman Rep. Ryan Zinke, an ex-Navy Seal commander, according to two transition officials and someone familiar with the offer.

The sources said Zinke has yet to accept and has given no indication as to which way he is leaning. But Zinke is also being discussed by prominent Washington Republicans as a possible 2018 candidate for the Montana Senate seat now held by Democrat Sen. Jon Tester.
Backcountry Hunters & Anglers President and CEO Land Tawney issued the following statement on news of the possible appointment:
"Congressman Zinke understands the importance of public lands and balancing management of these important resources with energy development and other uses. As Montana's lone representative in the House of Representatives, Mr. Zinke has showed himself to be receptive to the interests of a wide range of constituents and a potential ally of sportsmen and other outdoor recreationists.

"Charged with administering significant federal lands and natural resources, the Interior secretary is possibly the most powerful individual in the country when it comes to the future of our cherished public lands and waters, fish and wildlife and outdoor traditions.

"We're gratified that the Trump administration is listening to our concerns and showing a willingness to act in the best interests of the American people and our irreplaceable public lands legacy."

BHA National Board Chair and Kalispell, Montana, resident Ryan Busse stated:

"Montana sportsmen have welcomed opportunities to engage with Representative Zinke during his work on behalf of Montanans as a member of Congress. We appreciate his efforts to keep public lands public and to strongly fund cornerstone natural resources programs like the Land and Water Conservation Fund; at the same time, we are committed to ensuring that fish and wildlife and their habitats are considered priorities with competing uses of our public lands. We look forward to continuing to work closely with Mr. Zinke as Interior secretary."
Brian Sybert, Montana Wilderness Association executive director says:
Should he be appointed secretary of Interior, we expect Rep. Ryan Zinke to carry Montana's values into that role. That means protecting access to public lands, ensuring our forests and prairies are indeed managed for multiple use and not just resource extraction, and respecting that wild places and public lands are core American values that he'll need to protect for all citizens. Rep. Zinke has a checkered record when it comes to public lands, including a vote for developing wilderness areas, but has taken a few good votes against lands transfer and for the Land and Water Conservation Fund. Rep. Zinke has called himself a Roosevelt conservationist, and we will hold him to everything that definition entails.
The National Resources Defense Council president Rhea Suh issued this statement:
"Without a doubt, Rep. Zinke adds another fossil fuel champ to Trump's a pro-polluter cabinet. While Zinke has opposed selling off our public lands, his record falls way short of being able to meet the full mission of the Interior Department. That is to manage and protect our wildlife, our public lands and waters, and our cultural heritage for the benefit of all Americans, today and tomorrow. It is also to uphold and honor our responsibilities to indigenous people in America. That is the job and Zinke is the wrong person for the role.

"All told, Trump's cabinet represents an unprecedented takeover of our government by special interests."
Here's an Associated Press report with background on Zinke:
WASHINGTON (AP) – President-elect Donald Trump has offered Montana Rep. Ryan Zinke the job of interior secretary, though it's unclear whether the congressman has accepted, two people with knowledge of the offer said Tuesday.

Zinke, 55, is a retired Navy SEAL who was awarded two Bronze Stars for combat missions in Iraq. He was an early supporter of Trump and met with the president-elect Monday at Trump Tower in Manhattan.

He just won re-election to a second term as Montana's only House member, and Republicans had mentioned him as a possible challenger to two-term Democratic Sen. Jon Tester in 2018.

Trump was also said to be considering Washington Rep. Cathy McMorris Rodgers for the job. She wrote on Facebook Tuesday that it was an "honor" to be invited to meet with Trump.

The people with knowledge of the offer to Zinke insisted on anonymity because they were not authorized to discuss the transition process publicly.

Zinke, who serves on House Natural Resources and Armed Services committees, describes himself as "a steadfast advocate for Montana veterans and military personnel and families." He advocates greater use of public lands for energy production such as oil and natural gas.

Zinke has prioritized development of oil, gas and other resources on public lands and has advocated for state control of energy development on federal lands, a stance that some environmental groups say threatens national parks. Zinke has voted against efforts to designate new national parks that would diversify the National Park System.

Zinke attracted attention in the 2014 campaign for calling Hillary Clinton "the antichrist."

"Do I really believe that she is the antichrist? That answer would be `no,"' Zinke said in an interview with The Associated Press. "But I do get a little emotional about Benghazi, and I like the rest of America want answers."

In September 2012, when Clinton was secretary of state, the U.S. ambassador to Libya and three other Americans were killed in the eastern city of Benghazi when militants stormed a U.S. diplomatic post and, hours later, fired on a CIA compound nearby. Some Republicans argue the U.S. military held back assets that could have saved lives and believe President Barack Obama and Clinton lied to the public about the nature of the attack.

Before being elected to Congress, Zinke served in the Montana State Senate, where he chaired the Education Committee and focused on advancing technology in the classroom, rural access to education and local control over schools.

Zinke graduated from the University of Oregon, where he played football and earned a degree in geology. He has master's degrees in business finance and global leadership from the University of San Diego.

Interior manages the nation's public lands and minerals and is the steward of 20 percent of the nation's lands, including national parks, national wildlife refuges and other public lands. The department also supplies and manages water in the 17 Western states and upholds federal trust responsibilities to 566 federally recognized Indian tribes and Alaska Natives.

Zinke has raised doubts about climate change as "unsettled science." Yet he's also said in interviews that "something's going on" with the climate and promoted an energy strategy that includes renewable sources such as wind and solar would be prudent.

His home state boasts the largest coal reserves in the nation, although it trails far behind neighboring Wyoming in mining productivity. Zinke was one of many Western Republicans who criticized the Obama administration's imposition of a January moratorium on new coal sales from public lands.

During his re-election campaign, Democrats attempted to label Zinke as a radical conservative who would sell off federal lands to private interests or transfer them to state control. Zinke adamantly denied the charge, which was based on a pledge Democrats alleged he had signed in 2012 stating that Montana's lands were sovereign and not subject to federal control.

Zinke has said he doesn't remember signing the pledge.

He has instead cast himself as a protector of the public's right to access public lands and made a priority in Congress of trying to fix problems with the management of the nation's forests.

During his re-election campaign, he focused largely on national security issues and the need to more thoroughly vet refugees, arguing that terrorism was threatening the homeland and that his more than two decades as a SEAL gave him an advantage on the issue.
---
---