Wed., Feb. 3, 2016
Enchantment Lakes wilderness permit season to increase by 6 weeks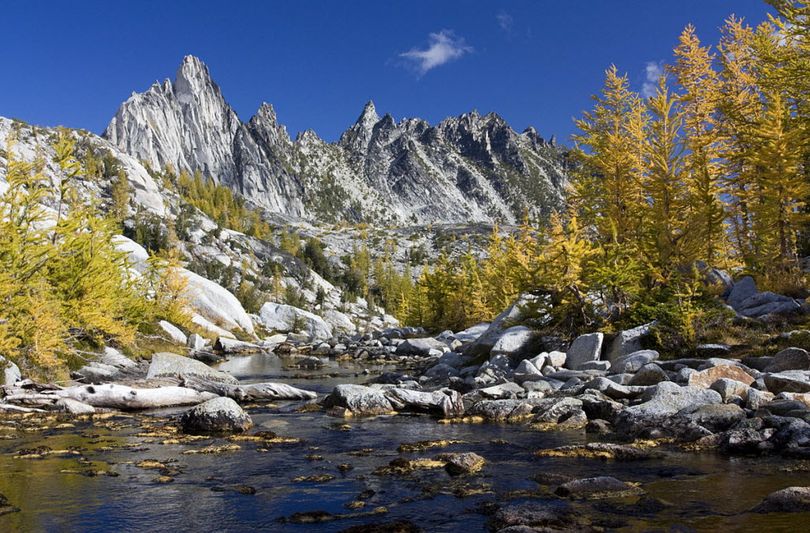 HIKING -- Dodging the permit season for hiking up and camping in the popular above-treeline portion of the Alpine Lakes Wilderness will be much more difficult starting this year.
The Wenatchee River Ranger District is expanding its limited entry, overnight permit season for the Enchantment Permit Area near Leavenworth, Washington.
The permit season has been increase by six weeks to help manage increased visitor use and resulting resource damage at this popular destination, Forest Service officials say.
Permits for overnight stays are being required May 15-Oct. 31.
Reservations are made through www.Recreation.gov. Lottery applications for the Enchantment Permit Area will be accepted Feb. 15-March 2.
In the past, a good weather window could give unlimited numbers of hikers access outside the old permit season to the fragile Enchantments area, which is especially popular in October when larch needless turn golden yellow.
The Forest Service has been considering a longer permit season since a study was completed in 1993.
"Increasing popularity of the Enchantments has led to concentrated and unsustainable overnight use before and after the previously implemented permit season, frequently exceeding daily use levels established to minimize impacts from high recreation use," forest officials said in a release.
Recent low-snow winters and hot, dry spring and fall seasons have resulted in a longer snow-free period increasing accessibility into the Enchantment Permit Area and lengthening the high-use season.
Forest officials explain their action:
In the 1976 Alpine Lakes Area Management Act, Congress directed the Forest Service to implement a management plan that would "take into consideration the Enchantments especially fragile beauty, its ease of accessibility, its unusual attractiveness, and its resultant heavy recreational usage".

By 1981, the Alpine Lakes Wilderness Plan established carrying capacities for the Enchantments permit area. To allow this fragile environment to be safeguarded for present and future generations, a permit system for overnight camping was enacted in 1987.

Development of new campsites and social trails can be created in one high-use weekend where a scarcity of durable surfaces or previously impacted sites cause visitors to camp and travel on fragile vegetation. A key consideration in developing permit quotas is to ensure adequate campsite availability and protection of the wilderness resource from over-use. Increasing the length of the limited entry overnight permit season will ensure protection of the natural resources of the Enchantments for the entirety of the current and projected high-use season.
Info: Wenatchee River District, (509) 548-2550.
---
---