Tue., Jan. 19, 2016
Hunters kill 350 cow elk in Montana's 'shoulder season'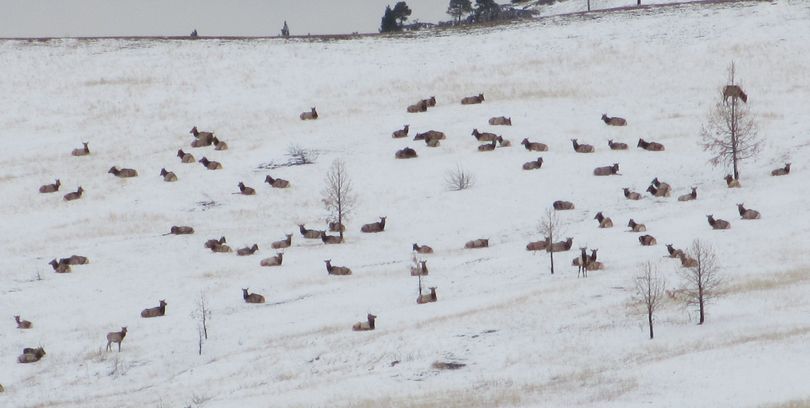 HUNTING -- Although it hasn't been like shooting elk from a haystack, Montana's experimental 'shoulder season' to reduce numbers of cow elk and minimize crop damage has been successful in terms of results and generating interest.
Here's an update report by Brett French, outdoor writer for the Billings Gazette:
Since kicking off after the regular hunting season ended in November, the newly enacted elk shoulder season hunt taking place largely in the White Sulphur Springs area has resulted in the harvest of more than 350 cow elk.

That figure was provided by Fish, Wildlife and Parks' Quentin Kujala, wildlife management section chief, during a meeting of the Environmental Quality Council on Wednesday in Helena. The EQC is an interim legislative committee with oversight of FWP.

"Landowners have rated it a success," Kujala said. "All landowners in the district are participating in some way."

It's also working to keep elk off of haystacks, precluding the need for damage hunts — another method of reducing elk populations. So its possible, said FWP director Jeff Hagener, that shoulder seasons could reduce the need for damage hunts in the future.

The harvest figure was the first time any number had been attached to the first-time program. The goal of the shoulder seasons is to remove at least half of the annual calf crop in hunting districts where elk are over objective. The other half is expected to be removed during the general hunting season. In four years the shoulder seasons would sunset and be reviewed for their level of success.

Kujala called the early cow elk harvest estimate for the White Sulphur Springs area encouraging but said there is still more work to be done and the pilot project could lead to modifications when the program is expanded. That could be a reconsideration of allowing hunting seven days a week and whether some other public lands should be included. Currently, forest lands are excluded.

The Fish and Wildlife Commission will consider at its February meeting whether to expand the shoulder season hunts to 44 more districts next year. Eighty hunting districts are considered over objective.

Taking the leap to 44 districts was called too big by Nick Gevock, who represents the Montana Wildlife Federation. He said his group would rather see FWP move slower in ramping up the program.

"It's fair to say there is tremendous interest in this shoulder season," Gevock said.
---
---