Wed., June 1, 2016
Idaho spring chinook fishing to close Thursday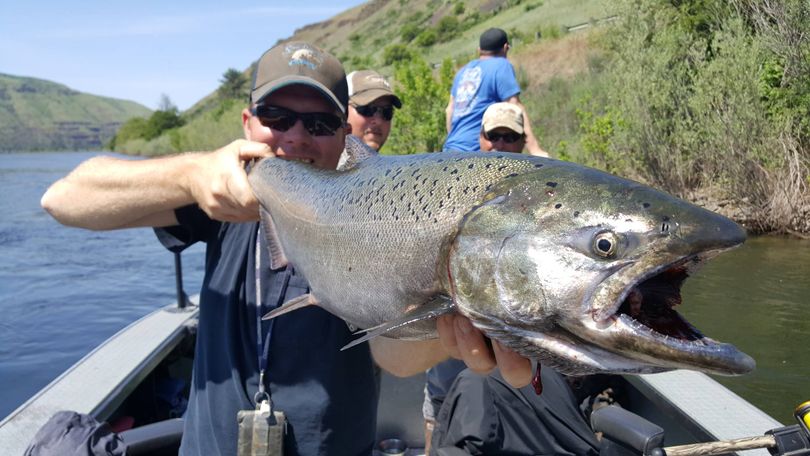 FISHING -- The fishing was too good to last.
Idaho fishing seasons for spring chinook will close on the lower Salmon River and the Snake River in Hells Canyon at 9 p.m. Thursday, the Idaho Fish and Game Department has announced.
Eric Barker of the Lewiston Tribune rounded up the details:
Anglers fishing the Lower Salmon and Little Salmon rivers last week harvested 2,110 adult spring chinook, about 63 percent of the state's estimated quota for the run returning to the Rapid River hatchery. In the previous two weeks, anglers caught just 426 chinook from the two rivers.

Joe DuPont, regional fisheries manager for the Idaho Department of Fish and Game at Lewiston, said in an update that good fishing conditions, combined with high effort from the three-day weekend and the arrival of the bulk of the run, produced high catch rates that made the closure necessary.

"If we don't make some closures soon, we could have to shut down the entire Rapid River run fishery by this weekend," he said.

Fishing on the Salmon River will close between Rice Creek Bridge and the Vinegar Creek boat ramp. Fishing will remain open on the Little Salmon River.

Harvest was heaviest last week on the section of the Lower Salmon between Time Zone Bridge and the mouth of Shorts Creek, sometimes called the Park Hole, where anglers caught and kept 615 chinook and averaged 10 hours of fishing for each chinook landed. Anglers fishing between Rice Creek Bridge and Hammer Creek Boat Ramp caught 612 chinook and averaged about eight hours of fishing for each chinook caught. Those fishing between Hammer Creek and Time Zone caught and kept 343 chinook, with a catch rate of 21 hours. Those fishing the Little Salmon River accounted for the harvest of 540 chinook and produced a catch rate of 18 hours per fish.

Anglers fishing on the Snake River between Dug Bar and Hells Canyon Dam caught about 125 chinook last week and have reeled in 355 for the season. The state has an estimated harvest quota of about 400 fish there.

The Clearwater River upstream of Orofino Bridge, the South and Middle Forks of the Clearwater River and the Lochsa River will stay open at least through Monday.

The North Fork of the Clearwater River closed Monday night. Anglers there caught and kept 578 fish last week and averaged seven hours of fishing for each chinook landed.

DuPont said the state is likely to have a total harvest quota on the Rapid River run of about 4,000 chinook, and a quota of 3,200 on the Clearwater River and its tributaries.
---
---