Mon., March 14, 2016
New report: Washington's wolf population continues to grow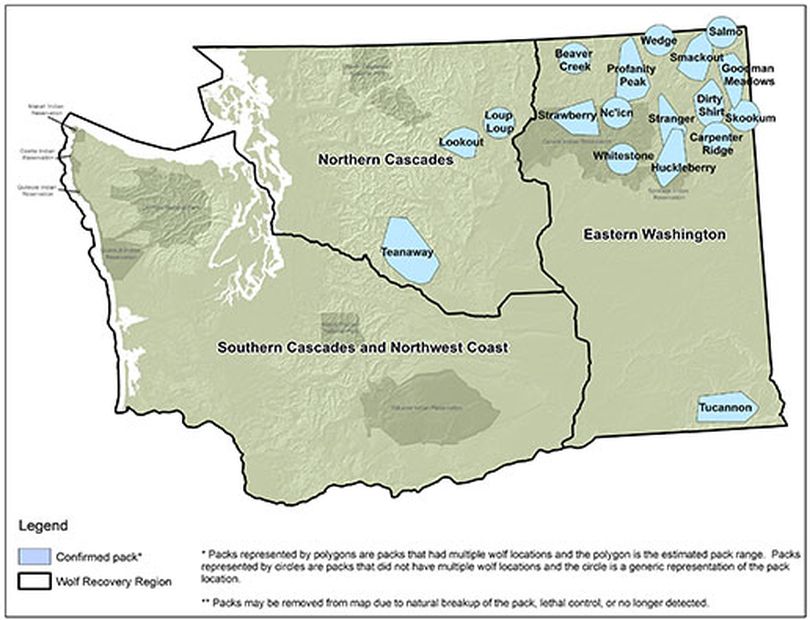 ENDANGERED SPECIES -- Washington's wolf population continued to grow last year and added at least four new packs, according to the Washington Department of Fish and Wildlife's annual survey. By the end of 2015, the state was home to at least 90 wolves, 18 packs and eight breeding pairs.
Oregon recently documented that wolves were expanding in within its borders, too, in the annual reports required under Endangered Species rules.
Washington's recently completed survey shows the minimum number of wolves grew by 32 percent last year, despite the deaths of at least seven wolves from various causes, the agency announced today in a media release.
Since 2008, when WDFW documented just one pack and five wolves, the population has increased by an average of 36 percent per year.
"Wolf populations in Washington are steadily increasing, just as we've seen in the upper Midwest and Rocky Mountain states," said WDFW Director Jim Unsworth. "This increase – and the wolves' concentration in northeast Washington – underscores the importance of collaboration between our department, livestock producers, and local residents to prevent conflict between wolves and domestic animals."
Donny Martorello, WDFW wolf policy lead, said the new Beaver Creek, Loup Loup, Skookum, and Stranger packs were confirmed in Ferry, Okanogan, Pend Oreille, and Stevens counties, respectively. (See updated wolf pack map above.)
However, researchers found no evidence of the previously documented Wenatchee Pack, and the Diamond Pack shifted its activity to Idaho and is no longer included in Washington state totals.
The minimum number of breeding pairs in Washington increased from five to eight – the first increase since 2011, Martorello said.
WDFW conducted the research using aerial surveys, remote cameras, wolf tracks, and signals from 22 radio-collared wolves from 13 different packs. Twelve wolves were fitted with radio collars during the year, while one pup was marked and released without a collar due to its small size.
Despite their growing numbers, wolves were involved in fewer conflicts with livestock than in 2014. Martorello said the department determined wolves from four packs were responsible for killing a total of seven cattle and injuring one guard dog.
Three of the seven wolves that died in 2015 were killed legally by hunters on the reservation of the Spokane Tribe of Indians, which authorized the harvest up to six wolves per year by tribal members. The four other deaths included one wolf killed in a collision with a vehicle, one shot in self-defense by a property owner, and one that died during an attempt to capture it. One wolf's cause of death is unknown.
The state agency took several steps in 2015 to expand public involvement in wolf conservation and management. Unsworth said the most important actions were doubling the size of the department's Wolf Advisory Group to 18 members, and initiating a "conflict transformation" process to improve working relationships among the members and the groups they represent and the department.
The state will continue to emphasize the importance of preventive actions to minimize wolf attacks on livestock and domestic animals, Martorello said. Agency wildlife conflict specialists are available to work with residents of communities where wolves are present.
WDFW has also adopted a "range rider" program to provide an increased human presence in grazing areas. The agency continues to offer cost-sharing agreements for ranchers through a program designed to help them reduce their expenses for preventive measures.
Gray wolves, all but eliminated from western states in the last century, are protected under Washington law throughout the state and under federal law in the western two-thirds of the state
Because of the difficulty of confirming the presence of every single wolf, survey results are expressed in terms of the minimum number of individuals, packs, and breeding pairs. The state Wolf Conservation and Management Plan defines a pack as two or more wolves traveling together in winter and a successful breeding pair as an adult male and female with at least two pups that survive to the end of the calendar year.
Under the state management plan, wolves can be removed from the state endangered species list once 15 successful breeding pairs are documented for three consecutive years among the three designated wolf-recovery regions.
WDFW's complete wolf survey for 2015 will be available by the end of March on the department's website.
---
---