Mon., March 14, 2016
Two Bear helicopter rescues kayaker on Potlatch River; next stop: jail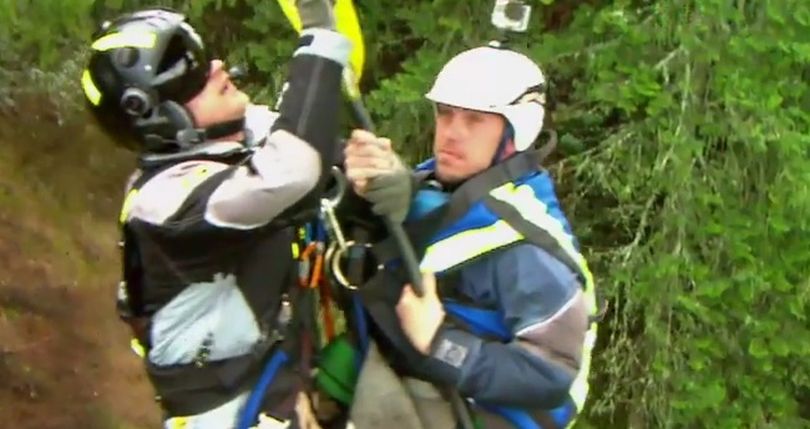 PADDLING -- A Boise-area kayaker got a hoist from trouble on Idaho's Potlatch River on Saturday by a free helicopter rescue service out of Montana, but the man isn't so free now. He was wanted by the law.
The Latah County Sheriff's deputies checked out Jonathan Wyble, 29, of Fruitland after the rescue and learned he was wanted on a felony arrest warrant.
"Two kayakers were on a float trip on the Potlatch River when one of the men hit a logjam and overturned his boat," reports pilot Jim Bob Pierce of Two Bear Air out of Whitefish.
The man was able to get to shore but his kayak was submerged under a log. The other man was able to pull out prior to the log strainer but didn't show up later at the takeout. Latah County Sheriff and SAR personnel began a search for he missing kayaker. Two Bear Air Rescue was called at 02:15 pst and responded to the area to search for the missing kayaker. Two Bear Air Rescue crewmembers eventually found the man on a steep slope just above the river and were able to hoist the man to safety.
S-R readers will recognize Pierce as the Two Bear pilot who made a daring January rescue that saved the life of a Spokane backcountry skier who had been severely injured in an avalanche near Lookout Pass.
The backcountry skier in January was rushed to a hospital for medical care.
The kayaker last weekend was booked into the Latah County Jail in Moscow.
---
---