Thu., May 19, 2016
Mountain bike trails sabotaged with spikes in Colorado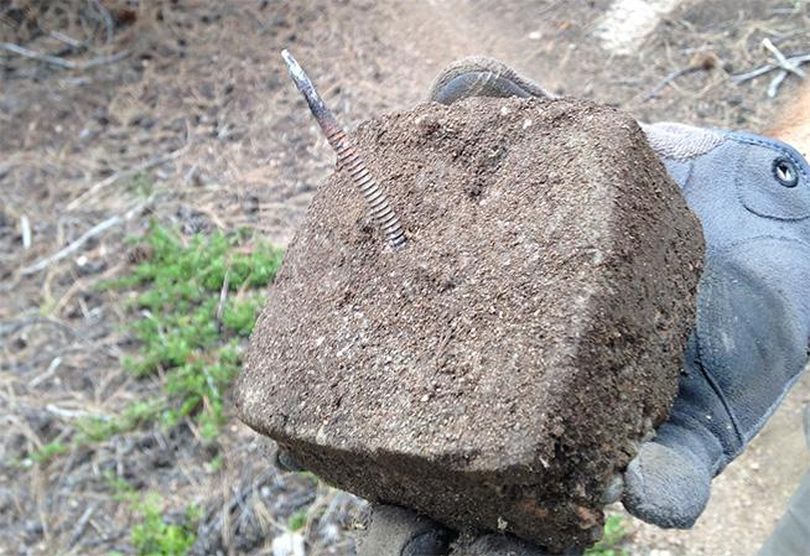 TRAILS -- A Colorado mountain biking trail -- built by mountain bikers in cooperation with the U.S. Forest Service _ has been sabotaged with dangerous three-inch spikes.
Tim Fishback and a friend noticed the sabotage after their bicycle tires went flat last weekend on the Little Scraggy Loop in the Pike National Forest and reported the incident to authorities.
The Denver Post is reporting this incident and other sabotage related to mountain biking throughout the Northwest.
While conflicts between mountain bikers and other trail users occur in some areas, this recent incident in Colorado is especially troubling because of the danger. And the trail was built after nearly four years in planning and 3,800 hours of volunteer labor – a value of $95,380 – donated by organized mountain biking volunteers.
Fishback poked around the trail and found a 3-inch nail sticking out of the dirt. The nail had been mounted in a concrete brick and buried in a portion of the popular 9-mile flowing singletrack.
"I've never seen anything like it," he told the Denver Post. "Someone manufactured these things. It took some effort to dig those holes and put those in there and they were spaced out a good bit. Somebody was trying to do some real harm and they were targeting bikers."
A 20-year partnership between the Forest Service and the Front Range mountain biking community has transformed the Buffalo Creek, Colorado, area from a scorched Jefferson County burn zone into one of Colorado's top destinations for mountain biking.
The Denver Post story cites other instances of sabotage in Colorado, as well as these notable cases elsewhere:
• A 64-year-old woman was convicted of criminal mischief and sentenced to probation and community service in January after wildlife cameras caught her draggling tree limbs across trails in North Vancouver. The avid hiker would spend hours a day setting traps for cyclists on trails built by mountain bikers.

• Three years ago a 57-year-old psychiatrist was sentenced to jail for booby-trapping Oregon mountain biking trails by stringing rope across trails and hiding nails in vegetation spread across singletrack.

• In 2011, an anti-mountain biking zealot renowned for his vitriolic diatribes against bikes was sentenced to prison for attacking mountain bikers near his Oakland home.

• Police arrested a man in 2008 for digging and then concealing more than 50 deep holes in a mountain bike trail in southern California.
---
---