Bay Trail Fun Run supports Sandpoint recreation route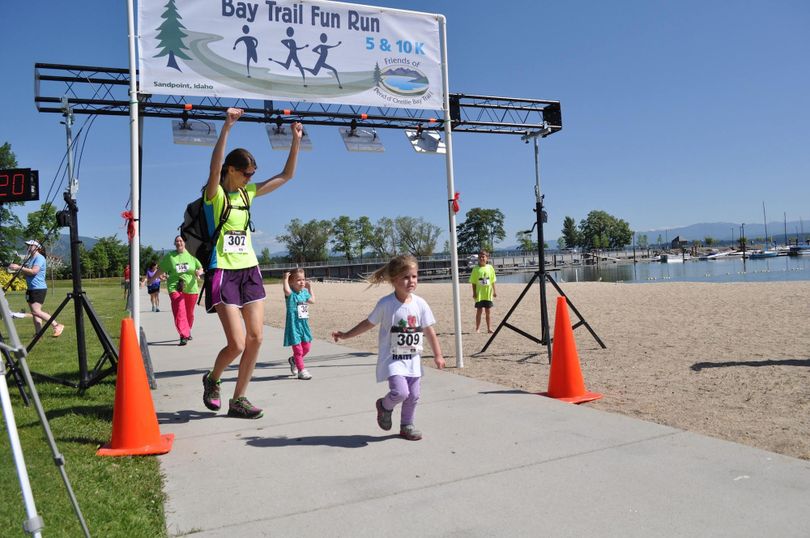 TRAILS -- The fourth annual Bay Trail Fun Run along Lake Pend Oreille is set for 9 a.m. on June 12 to raise funds for maintaining the popular route near Sandpoint.
Participants will run/walk 5-kilometer or 10-K courses to support the Pend d'Oreille Bay Trail, a public, non-motorized trail, connecting the communities of Sandpoint and Ponderay. Races will start at 9 a.m. from Trinity at City Beach Restaurant.
Nearly 1.5 miles of waterfront trail is currently open to the public to enjoy. This trail will serve as part of the 5 and 10 K course for the Bay Trail Fun Run.
Event hosts are Friends of the Pend d'Oreille Bay Trail, the Idaho Conservation League and Trinity at City Beach Restaurant with support from other businesses and groups.
Work continues on the Pend d'Oreille Bay Trail project. A Master Trail Plan was recently completed that will help determine improvements and expansions for the trail that could include a railroad underpass into Ponderay, an extension of the trail eastward into Kootenai, improved parking at the current trailhead, steps to the water for easier access and the installation of interpretive signage along the trail.
This year's race again features views of Lake Pend Oreille and the Selkirk Mountains along with professional chip timing, a professionally measured course, awards for top finishers in each and every age group and prizes for overall winners. All participants will receive this year's race t-shirt and other giveaways and will have the satisfaction of helping to protect a beautiful greenway along Lake Pend Oreille.
With a festive community vibe, complimentary massages, a specially priced "racers lunch" at Trinity at City Beach Restaurant and sponsor booths, the event will provide entertainment for both racers and spectators alike.
Online registration for the Bay Trail Fun Run is available at www.pobtrail.org until June 10.
Registration is $25 until June 10 or $30 through race day. Kids 12 and under are free but must register.
Strollers are welcome to participate in the race but no dogs are allowed on the course from 8 – 11 am. Dogs are welcome on the trail at all other times.
Info: (208) 265-9565 or email friends@pobtrail.org.
---
---