Mon., Nov. 7, 2016
Grand Coulee Dam impact on salmon nets silver for Reardan FFA debaters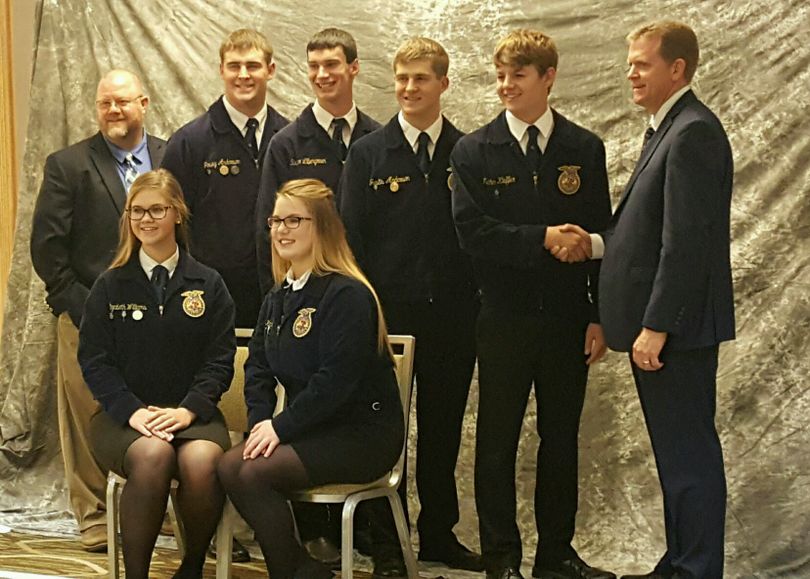 FISHERIES -- The Reardan High School FFA Ag Issues team shined in the spotlight of a national stage last month with its debate on the pros and cons of pursuing salmon passage over the Columbia River's Grand Coulee Dam
After winning area contests and the Washington state title, the team took the issue to the national competition in Indianapolis and advanced to the semi-final round, placing them in the top 16 in the nation, said teacher-advisor Rick Perleberg.
The class and topic was profiled in my March column, "Reardan students debate salmon, dams, other natural resource issues."
The Reardan chapter has represented Washington in the career development event two consecutive years.
Team members include Lizzie Williams, Nathan Kieffer, Justis and Josey Anderson, Ruger Lillengreen, and Kaylene Kuykendall.
The team tackled the issue of salmon reintroduction in the upper Columbia watershed. "The presentation is essentially a staged debate that exposed the pros and cons of this issue," said Perleberg.
The students presented to more than two dozen groups and organizations over the past 10 months in preparation for state and national competition. Among them: The Bonnevile Power Administration (responsible for marketing and managing power produced by the Federal Columbia River Power System), The Northwest Power and Conservation Council (responsible for directing the work of the BPA through Federal Act), Northeastern Washington Council of Governments, County Commissioners, Upper Columbia United Tribes (tribal consortium instrumental in reintroduction efforts in upper Columbia), Spokane Tribe of Indians, Colville Confederated Tribe, Columbia River Inter Tribal Fish Commission, Washington Department of Fish and Wildlife, U.S. Bureau of Reclamation (Federal entity who operates Grand Coulee Dam) and the Spokane City Council.
The students also presented their researched program to top aides from Washington, D.C., representing senators and representatives in Washington, Oregon, Idaho and Montana.
"Their presentation helped inform and guide policy makers directly involved with the issue of salmon reintroduction," Perleberg said. "It was with this type of interaction with government officials, and those directly involved in the political decision making community that Washington was recognized at the national Ag Issues awards ceremony for "truly capturing the spirit of the competition" in dealing with and informing the public on relevant issues that directly affect their community, state, and region of the U.S."
The team will make a final presentation Nov. 15 during the Lake Roosevelt Forum at the Davenport Hotel.
---
---