Tue., Nov. 8, 2016
Hunter impaled by antler of dead elk being dragged by ATV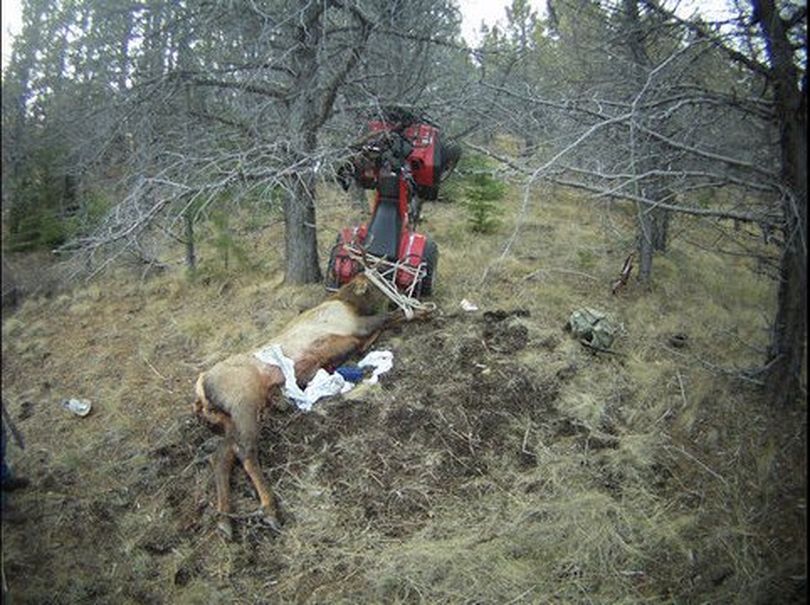 HUNTING -- A bull elk is usually safe to be around once it's dead. But an Oregon hunter found out otherwise last weekend.
A hunter from Bend was impaled in the back by the antler of an elk as he was dragging it back to camp behind an ATV in the Maury Mountains of Crook County on Saturday, prompting a rescue effort challenged by the steep, rugged and remote terrain, authorities said.
Gary Heeter, 69, was flown by Life Flight helicopter to a hospital in Bend, where a house supervisor told reporters he was in fair condition Saturday night.
An investigation and witness statements determined Heeter had been dragging the elk back to the hunting camp behind an ATV. Heeter began to drive up a steep hillside, which caused the front end of the ATV to come up. Heeter was impaled by the elk antler as the ATV rolled backward.
Members of Heeter's hunting party had applied bandages and pressure to control the bleeding until rescuers made their way to the scene.
Heeter was placed on a back board and emergency personnel carried him about a half a mile to the waiting helicopter.
Cross-country use of ATVs and other motorized vehicles is prohibited in most areas of national forests, which limit their travel to designated roads and trails.
---
---