Montana expands 'shoulder seasons' for elk hunting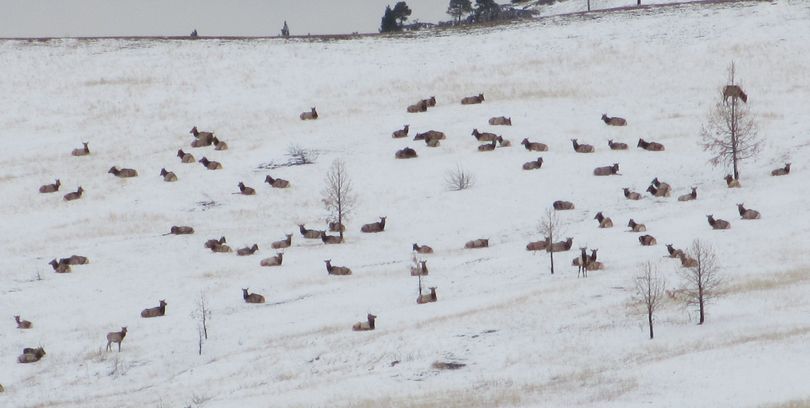 HUNTING -- Considered successful by hunters, rancher and wildlife officials, expanded elk hunting seasons authorized last year in Montana have been expanded for this season.
With the Nov. 27 end of the general big game season, many hunters are turning their focus to the elk shoulder season.
This winter marks the second year of Montana's antlerless elk shoulder season primarily on private land after the end of the general elk season. As a test, a pilot shoulder season was held last year in five hunting districts in central Montana between Great Falls and White Sulphur Springs
This year, 43 hunting districts statewide are open in six FWP regions with the goal of relieving pressure large wintering elk herds put on some private lands. Regulations differ among the hunting districts, and hunters need to know the difference.
For example, some of the hunting districts are open only to holders of B licenses obtained through the drawings earlier this year. A few districts are open to holders of unfilled general elk licenses. And not all the districts have the same opening and closing dates.
All the districts, license types and shoulder season dates are listed on page 116 of the deer, elk and antelope regulations and on the FWP website.
Here's more info from Fish, Wildlife and Parks officials:
For the shoulder season in Region 4, hunting is allowed only on private lands, federal Bureau of Land Management lands and state of Montana school trust lands. No elk shoulder seasons will occur on Forest Service lands, the Charles M. Russell National Wildlife Refuge or any FWP wildlife management areas.

Because this is primarily an elk season on private lands, it is the hunter's responsibility to obtain landowner permission and find a place to hunt. Occasionally a landowner will ask FWP for hunters, but that's not guaranteed.

"Hunters should prepare to hunt elk before showing up in a town or hunting district," said Gary Bertellotti, FWP Region 4 supervisor. "I would ask hunters to do their homework. See if they or a friend have a connection in a shoulder season district; like a relative, friend or coworker who is or knows a landowner."

Often hunters ask about how FWP's Block Management Program fits into the shoulder season.

Block management ends Jan. 1. Some but not all of the block management areas are participating in the shoulder season. To find out if a BMA is taking part refer to the rules on the back of each BMA map.

FWP has also hired hunt coordinators to help hunters and landowners in hunting districts near Lewistown, Great Falls and White Sulphur Springs.

Lewistown area, call (406) 538-4658, or 366-9191. The other option is visit the Lewistown FWP office. Office hours through Jan. 15 will be 9 a.m. to 4 p.m., Monday through Friday.
Great Falls, call (406) 548-1019, from 8 a.m. to 5 p.m., Monday through Friday.
White Sulphur Springs, call (406) 403-2361, seven days a week, 8 a.m. to 4:30 p.m.

Prospective hunters should be aware that the hunts may not be easy, especially for those who are not familiar with the area, Bertellotti said. The majority of access and retrieval will be walk in only.

"People should not have unrealistic expectations," Bertellotti said. "This is not a game damage hunt. At times this will be an arduous hunt."
---
---