Bald eagle count doubles in a week at Lake CdA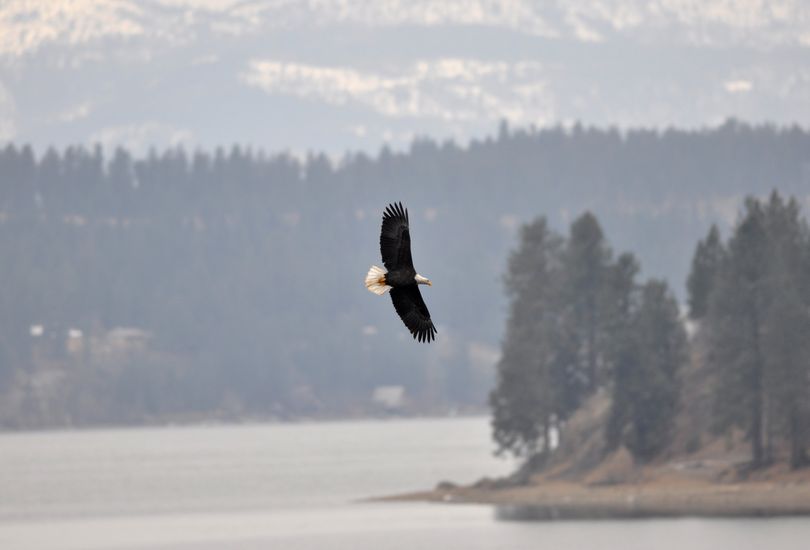 WILDIFE WATCHING -- The number of bald eagles arriving for the annual congregation at Lake Coeur d'Alene has more than doubled in a week.
The big birds are homing in on the feast of spawning kokanee -- the biggest fish run in 20 years -- in the northeast area of the North Idaho lake. The gathering usually peaks in late December.
Carrie Hugo, U.S. Bureau of Land Management wildlife biologist, performed her second eagle survey of the season today and counted 69 bald eagles in the Wolf Lodge Bay area, up from 26 a week ago.
"After waiting out the sleet and rain I counted 57 adults (white heads) and 12 immature eagles," she said. "Lots of eagles and it should only get better. There are a lot of dead and dying kokanee already."
Indeed, the lake is producing a wealth of late fall-early winter food for eagles.
The Lake Coeur d'Alene population of kokanee -- landlocked sockeye salmon -- has been at a fairly high density since 2008, says Andy Dux, Idaho Fish and Game Department regional fisheries manager.
"But this year was our highest estimate since 1996, thus, there should be plenty of kokanee for the eagles this year."
Bald eagles also are showing up to feed on spawning kokanee at Priest Lake and Lake Pend Oreille, but the birds that return to Coeur d'Alene's Wolf Lodge Bay are notably accessible for viewing south of Interstate 90.
The eagles provide a popular wildlife-viewing attraction with numbers of birds and viewers increasing into December. In 2015, the gathering soared to 126 bald eagles on Dec. 10, 2015.
Idaho Fish and Game Department and U.S. Bureau of Land Management team for an Eagle Watch Week with displays and spotting scopes in the Wolf Lodge Bay area during the week between Christmas and New Year.
---
---