Tue., Oct. 4, 2016
Fall chinook run peaks in Hanford Reach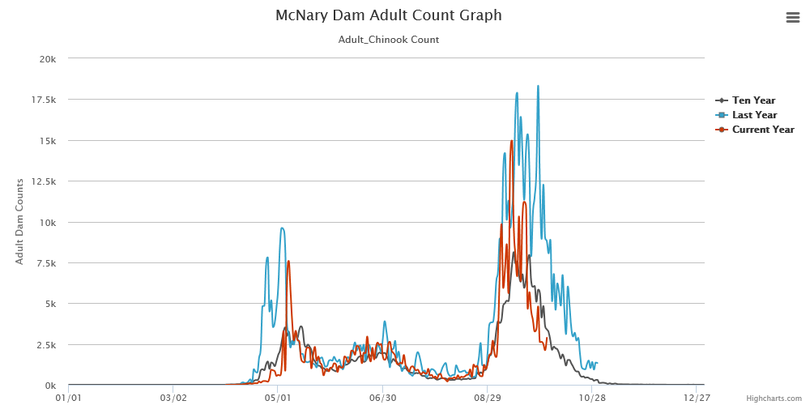 FISHING -- The 2016 fall chinook run has peaked over McNary Dam, and Columbia River anglers are hauling in good catches as salmon have stacked up through the Hanford Reach below Priest Rapids Dam. Here's the latest report from Paul Hoffarth, Washington Department of Fish and Wildlife biologist in the Tri Cities.
Boats fishing for salmon in the Hanford Reach continue to average a chinook per boat (14 angler hours per fish). Best fishing was in the Ringold area at 1.6 chinook per boat. Vernita was slightly slower at 1.4 chinook per boat. Bank fishing at Ringold continues to be slow at 60 hours per chinook.

WDFW staff interviewed anglers from 976 boats (2,426 anglers) and 135 bank anglers (Ringold access area) and sampled 1,061 adult chinook and 69 jacks. Based on the information collected, an estimated 3,644 adult chinook and 234 jacks were harvested this past week from 8,585 anglers.

Through October 2, 11,053 adult chinook, 806 chinook jacks, and 13 coho have been harvested in the Hanford Reach from 32,578 angler trips.

The numbers of fall chinook moving upstream through the McNary fish ladders has continued to decline. The current in-season update for the Hanford Reach natural origin (wild) fall chinook is 107,376 adults well below the forecast but still a strong return.
---
---