Tue., Oct. 25, 2016
Anglers needed to catch Hanford kings for egg-taking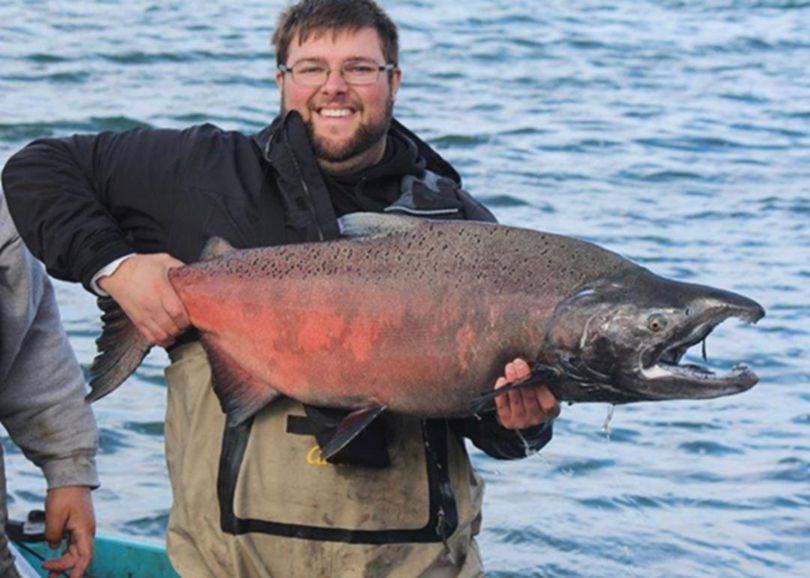 FISHING -- More salmon anglers are needed this weekend to catch big Hanford Reach chinook and transfer them live to biologists who will take the eggs and milt for hatchery production.
Although the big chinooks are getting ripe, fishing success continues to be good in the stretch of the Columbia River downstream from Priest Rapids Dam.
The fifth Annual "King of the Reach" Project is organized to collect live adult wild fall chinook by hook and line based out of the Vernita and White Bluffs boat launches.
"We are looking for anglers that are willing to commit to a day of fishing in the Hanford Reach to help us reach our collection goal of 400 live wild fall chinook," said Paul Hoffarth, Washington Department of Fish and Wildlife biologist.
"These fish will be used for the production of 5.6 million fall chinook juvenile salmon to be released at Priest Rapids Hatchery in June of 2017."
Anglers must register at the collection site each day prior to fishing, either at the Vernita or the White Bluffs (Wahluke) boat launch.
Participants are welcome to fish for a few hours or all three days, but only anglers registered for the Project will be allowed to fish this area of the Columbia River and no harvest is permitted in the closed waters.
All adult wild fall chinook captured must be immediately transported alive back to the boat launch. Boats will need to be equipped with a live well or large ice chest that can be used as a holding area while transporting the fish back to the launch.
The state Fish and Wildlife Department, Grant County PUD and the Coastal Conservation Association will have volunteers at the boat launches to register anglers and collect donated chinook.
The event will be conducted on Friday and Saturday from 6 a.m. to 5 p.m. and on Sunday from 6 a.m. to 1 p.m.
Participants are encouraged to register online for the CCA King of the Reach Derby.
How's the fishing? Here's Hoffarth's latest creel report:
The number of anglers fishing the Hanford Reach continues to decline but the fishing continues to be very good with boats averaging almost 2 chinook per boat (8 angler hours per fish). WDFW staff interviewed anglers from 283 boats (682 anglers) and 66 bank anglers (Ringold access area) and sampled 445 adult chinook and 44 jacks. Based on the information collected, an estimated 1,156 adult chinook and 66 jacks were harvested this past week from 1,885 anglers.

Bank fishing at Ringold continues to be slow for chinook but steelhead fishing has picked up slightly.Staff interviewed 114 anglers fishing for steelhead at the Ringold Springs access area that reported 22 steelhead caught, an average of 14 hours of fishing per steelhead.

Through October 23, 16,553 adult chinook, 1,061 chinook jacks, and 31 coho have been harvested in the Hanford Reach from 43,130 angler trips.

The Columbia River from the Hwy 395 bridge upstream to the old Hanford townsite wooden powerline towers will remain open to fishing for salmon through October 31. The river is now closed to salmon fishing from the Hanford townsite upstream to Priest Rapids Dam and closed to all fishing from the Hanford townsite upstream to Vernita Bridge.
---
---