Thu., Sept. 1, 2016
Google Trekker images feature Spokane area online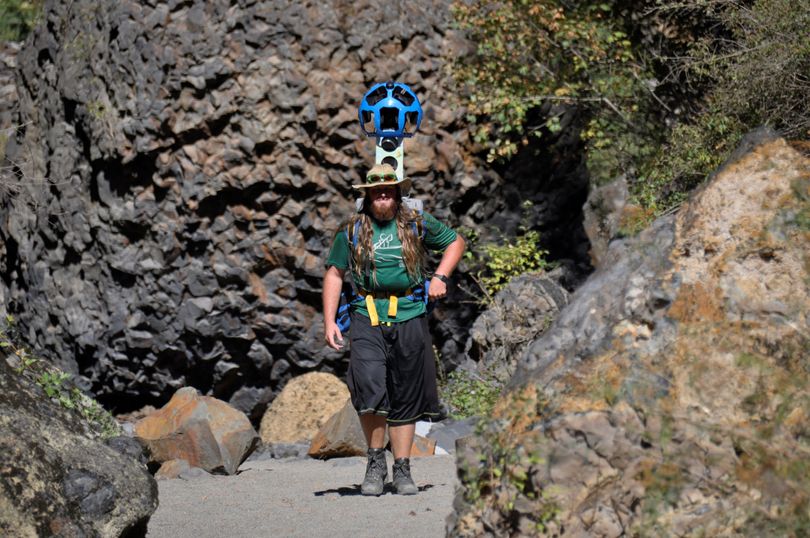 TRAILS -- Images from Google Trekker's fall visit to Spokane are showing up online to give people around the world 360-degree views of some special local places.
Volunteers carried the 40-some-pound backpack and towering Google Trekker camera in places such as Riverside State Park - Bowl and Pitcher Area and the Dishman Hills.
Google Trekker is an online platform similar to Google StreetView. While StreetView offers virtual tours of streets and places accessible by car, Trekker goes off-road to places accessed on foot.

Spokane was one of the few destinations throughout the country selected by Google last year, said Cheryl Kilday, President & CEO of Visit Spokane.
Unfortunately, the Trekker visited this area in the fall after the driest summer on record, and the crispy landscape is not at its peak for scenery.

The area travel bureau worked with local organizations and volunteers wearing the camera pack to "trek" areas throughout the Spokane region that cannot be seen on Google StreetView. These areas included parks, hiking trails, golf courses and university campuses.

The footage was sent to Google for editing.

"People hear about our outdoors, and now they may use Google Trekker to plan their adventure in advance. We hope this makes our recreational attractions even more accessible," Kilday said.

To see the locations, search for a Spokane spot on Google Maps, such as "Deep Creek Canyon - Riverside State Park," or "Spokane River Centennial Trail." Click on the "Explore" arrows at the lower right below the map. Click on the images with the circular arrow for Trekker and StreetView images. A highlighted area will appear on the screen that shows where the "trek" took place.
---
---