Tue., Sept. 6, 2016
Chinook showing at Hanford Reach; Columbia steelhead still lagging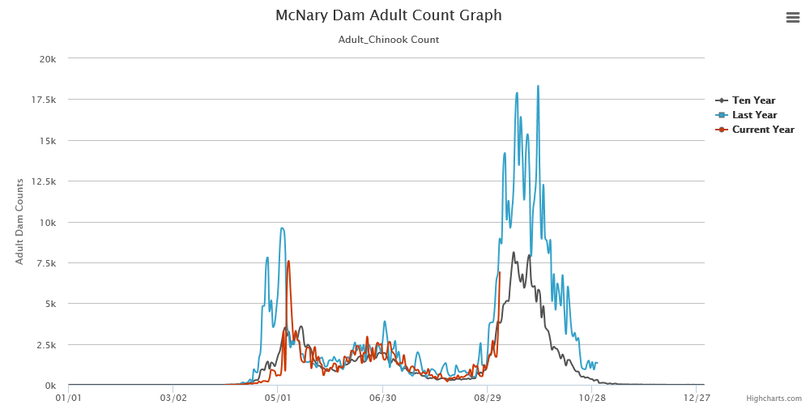 FISHING -- It's time to start getting serious about catching Columbia River kings between McNary and Priest Rapids dams. Here's todays report from Paul Hoffarth, Washington Department of Fish and Wildlife fisheries biologist in the Tri Cities.

Fall chinook harvest in the Hanford Reach area remained slow this past week but we did see a rise in the numbers of fish harvested at week end. Boats averaged 0.2 chinook per boat.

WDFW staff interviewed anglers from 226 boats (522 boat anglers) in the Hanford Reach (Hwy 395 to Priest Rapids Dam) with a harvest of 39 adult chinook and 6 jacks. Daily boat counts ranged from 40 to 192 boats. The majority of the effort was focused at the Yakima River delta (Bateman Island) but there was an increase in the number of boats fishing Ringold, White Bluffs, and Vernita areas. So far this season 209 adults and 33 jacks have been harvested from 2,896 angler trips.

The good news is the counts of fall chinook through McNary are increasing and traditionally the fishing picks up this week. In 2015, anglers harvested 2,764 adults and 124 jacks between Sept 7 and 13th.
Meanwhile, steelhead fishing remains weak in the McNary area and farther up the Columbia and Snake. Says Hoffarth:
WDFW staff observed a slight increase in the number of anglers fishing for salmon and steelhead in the McNary area. This past week staff interviewed 16 boats (27 boat anglers) and 12 bank anglers fishing for steelhead/salmon. No salmon or steelhead were harvested by the anglers interviewed.

There have been an estimated 306 angler trips for steelhead/salmon in the McNary area through September 4. To date, no steelhead have been reported harvested and six chinook jacks have been released.

Chinook and steelhead passage through McNary Dam usually peaks in mid September and continues to be strong through mid October.
---
---