Fri., April 7, 2017
Selkirk Mountains caribou survey finds 11 endangered animals remaining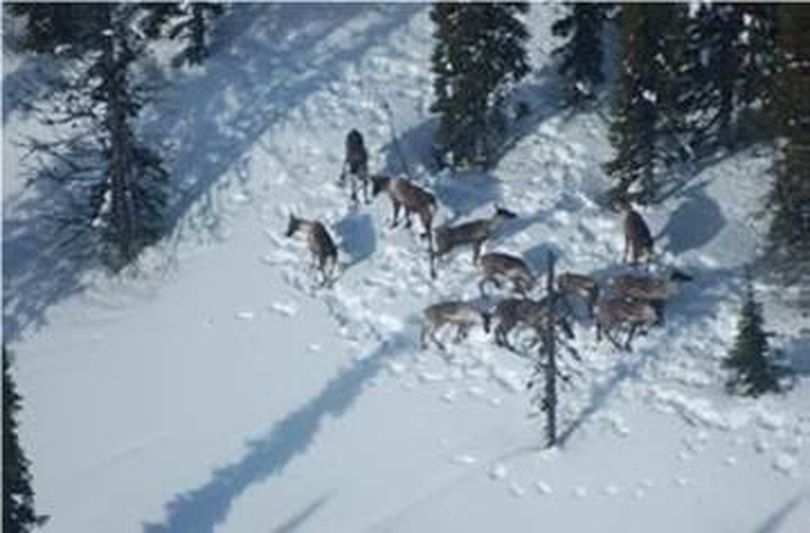 ENDANGERED SPECIES -- About a dozen animals may be all that remains of the woodland caribou in the endangered Southern Selkirk herd that roams near the U.S.-Canada border, according to the Washington Department of Fish and Wildlife.
Reporting on the annual late-winter helicopter survey conducted last month by the Selkirk Caribou International Technical Working Group, the department's weekly Wildlife Program report showed the photo above and said, "This small herd of 11 caribou is the extent of the Selkirk population as photographed north of Canada Highway 3 near Kootenay Pass in British Columbia."
A similar survey in 2015 found 14 caribou remaining in the herd, which survives high in the Selkirks on lichen from old-growth trees during the winter while roaming on top of the deep mountain snowpack.
More of the caribou subspecies roam farther north in Canada, but they, too, are struggling.
Dramatic measures have been undertaken in attempts to save the southern Selkirks herd, which suffers from old-growth habitat destruction, highway collisions in Canada and predation. Lawsuits have challenged U.S. Forest Service decisions to reduce habitat protections for caribou.
Eleven wolves were killed in the Southern Selkirk Mountains of British Columbia by provincial wildlife staff last year during a winter effort to reduce predation on the dwindling caribou herd that ranges in Canada as well as in Idaho and Washington.
The Kootenai Tribe of Idaho contracted with the U.S. Fish and Wildlife Service in 2015 to write a draft endangered species recovery plan for the South Selkirk herd.
---
---