Tue., Aug. 1, 2017
Mt. Spokane ski area expansion OK'd by Washington Supreme Court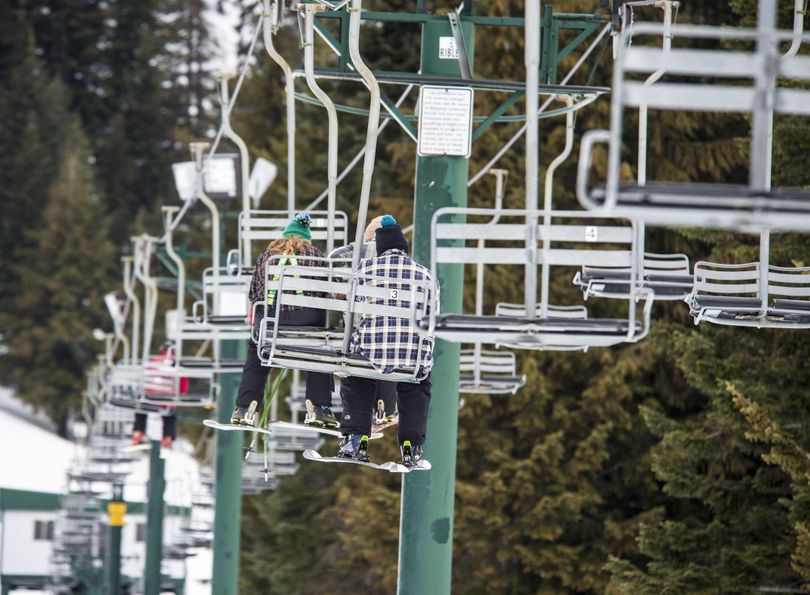 UPDATED 5:05 p.m. with statement on ruling from The Lands Council.
STATE PARKS -- Following a brief judicial delay this month, Mt. Spokane Ski & Snowboard Park today won a Washington State Supreme Court ruling that will allow its planned expansion to move forward, says Brad McQuarrie, general manager, in a media release just posted.
Construction is set to begin on Wednesday, Aug. 2, on the mountain's backside, creating nearly 80 additional acres of groomed trails and seven new runs to be served by the "Red Chair" chairlift, he said, adding that the new area is expected to be fully operational by the 2018-19 season.
Mt. Spokane Ski & Snowboard Park is a concession that operates within Mount Spokane State Park.
Some groups, including The Lands Council, have opposed the expansion saying it would impact wildlife habitat and older forest. A statement from the council is posted below.
"Mt. Spokane serves a very strong need in our region by providing accessible, affordable winter recreation," McQuarrie said. "The timing is ideal because the past couple of seasons we've been bursting at the seams with more skiers than ever."
"Mt. Spokane 2000, the non-profit concessionaire contracted by Washington State Park's to manage Washington's only park with ski and snowboard operations, has persisted for more than two decades toward its vision to expand and provide a strong community benefit by balancing public safety and recreation with environmental preservation and stewardship," the release says, offering the following background.
It received land use classification approval from the Washington State Parks Commission in 2014 and construction permits were issued by Spokane County in 2016 following many years of extensive planning, studies and public process that demonstrated strong public support. Mt. Spokane revised its expansion plan from 800 to 279 acres to address concerns raised by a local environmental group opposing the expansion. The Supreme Court's ruling affirms two previous rulings by lower courts confirming the Commission's action to allow for the expansion.

Mt. Spokane purchased a chairlift known as the Red Chair from Montana's Bridger Bowl Ski Area in 2013 to install on the mountain's backside. The legendary chairlift has a long and storied history, including ties to the Spokane community from its inception, as Riblet Tramway Company was the original builder of this chairlift based in Spokane.

"This is a very exciting day for every skier in our region. What this means is that we can now turn our vision into a reality so that more skiers can enjoy more of the mountain and the entire community can enjoy the benefits, " McQuarrie added. "We are grateful to every friend and supporter because together we will make this happen."
Following is a statement in reaction to the court ruling by Mike Petersen, executive director of The Lands Council.
State Supreme Court Declines to Review Mt. Spokane Challenge
A few hours ago, the Washington State Supreme Court declined to review a challenge to the proposed ski expansion in Mt. Spokane State Park.

For years, conservationists and tribes have fought to protect old-growth trees and a culturally important forest in Mt. Spokane State Park. In fact, the Commission's own chief wildlife biologist concluded that the western slopes of Mt. Spokane possess "the highest level of natural resources quality in the state park system."

"The decision to not review the case really renders the Commission's policy on protecting high valued state lands meaningless", said Mike Petersen, Executive Director of The Lands Council, one of the Plaintiffs in the case.

"The 800-acre portion of the west side of the mountain that is at issue in this case provides invaluable and rare alpine habitat that is unmatched in eastern Washington. An old-growth forest covers the western slopes, and it provides valuable habitat for many species that have seen their available habitat shrink in recent years. Gray wolves, which are on the state endangered species list, have recently been documented within Mt. Spokane State Park. Moving forward with the expansion puts all these values at risk", said Petersen

The forested canopy and mature vegetation provides valuable snow and water retention that recharges late-summer ponds, streams, and springs that many species and migrating animals rely upon. Clearcutting the forest for ski runs and building numerous ski lift tower platforms will cause irreparable harm.

As the Washington Department of Fish and Wildlife has observed, cutting ski runs through the old-growth forest will cause harm well beyond the immediate area logged. The valuable habitat will be fragmented and left virtually unusable for the many species that currently depend upon it. The intact old-growth forest will be forever changed.

The Plaintiffs in the case are: John Roskelley, The Lands Council, Spokane Audubon, Spokane Mountaineers, and Fayette Krause.
More background on the ski area expansion controversy follows:
---
---