Fri., Aug. 18, 2017
Northern pike documented farther down Lake Roosevelt at Hunters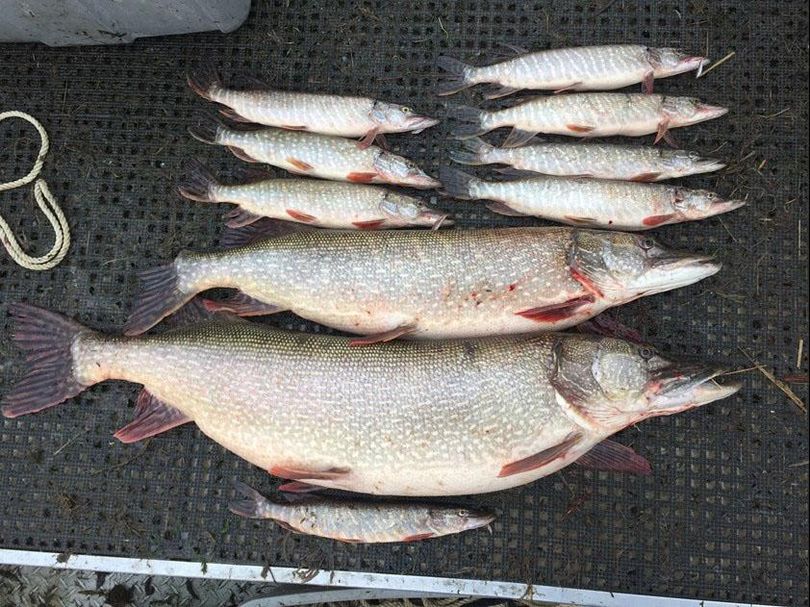 FISHING -- Despite a tribal gillnetting effort and a sportfishing bounty, non-native northern pike continue their downstream invasion of the Columbia River and Lake Roosevelt.
Northern pike have been confirmed this season as far downstream as Hunters, according to a July 12 report to the Northwest Power and Conservation Council. That's about 40 miles downstream from where the Spokane and Colville tribes and Washington Department of Fish and Wildlife have been taking a stand with spring gillnetting focused on the mouths of the Kettle and Colville rivers.
More than 1,080 northern pike have been removed from the reservoir in this year's round of gillnetting. The effort started in 2015 after pike were first observed in Lake Roosevelt in 2011.

The state and the tribes consider northern pike to be a threat to native fisheries with the potential for impacting salmon runs downstream from Chief Joseph Dam.

A 26-pound female northern pike was taken from Lake Roosevelt in June, the largest one caught since the removal program began, said Holly McLellan, fisheries biologist for the Colville Tribe.

Northern pike have caused significant disruptions to ecosystems after being introduced to nonnative waters in Alaska, California, Colorado, Idaho, Montana, Utah and Washington, she said.
Pike illegally introduced in Montana have worked their way down the Flathead, Clark Fork and Pend Oreille Rivers to the Columbia despite efforts to curb their advances in the Pend Oreille and Columbia -- in both British Columbia and Washington.
The tribes are requesting funds from the council to expand pike removal.
---
---