Fri., Aug. 25, 2017
Idaho's 101st life jacket loaner kiosk installed in Boundary County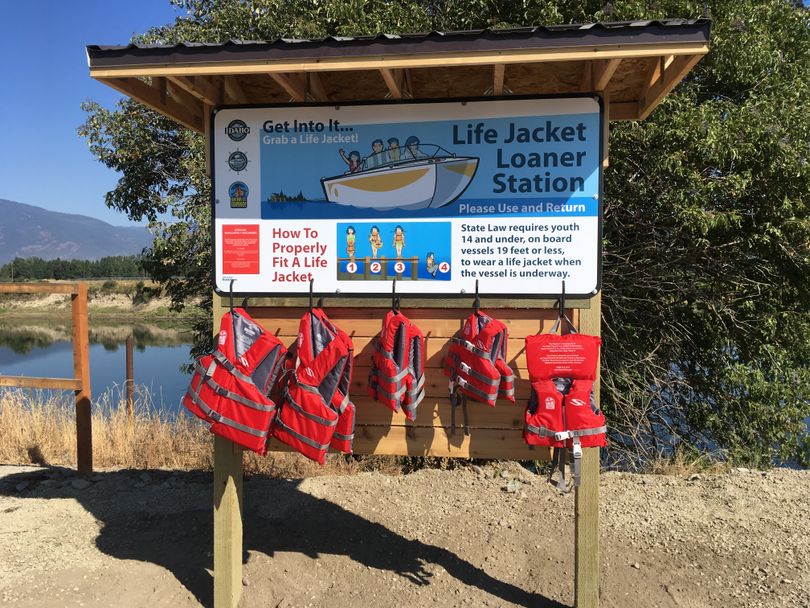 WATERSPORTS -- Boundary County has added a measure of safety for people who forget to bring their life jackets to a popular Kootenai River watersports area.
Idaho's 101st life jacket loaner station recently was installed with the help of the Sheriff's Department at the Kootenai River boat launch near Bonners Ferry. The Idaho Department of Parks and Recreation boating program has helped install the life jacket loaner kiosks at popular water sites in the state, including state park campgrounds at Priest Lake.
The new Boundary County kiosk is next to the Waterways/Search and Rescue building.
Of course, everyone should have their own life jackets for watersports in sizes to properly fit every member of the group or family. And there's no guarantee that the loaner PFDs won't be claimed by people who arrived earlier.
But just in case, the loaner stations have several life jackets ranging in size from infant to adult extra-large. The can be used free of charge and returned immediately after use.
"The life jacket loaner station program started in Idaho in 2010 with a few stations at state park facilities in Northern Idaho and has expanded all over the state", says Juelie Traska, boating education safety coordinator for Idaho Department of Parks and Recreation.
Construction of the loaner stations and purchase of the life jackets are funded with grant money provided to state of Idaho from the United States Coast Guard. Many stations are installed with the assistance of local partners such as a sheriff's office, county parks department or federal agency.
Idaho's life jacket law requires children age 14 and younger to wear a life jacket when underway in boats 19 feet long or less. This law applies to powerboats as well as non-motorized boats like kayaks, rafts, canoes, sailboats and stand-up paddleboards.
A loaner station at a popular boat ramp on the Kootenai River allows people to borrow a life jacket when needed to keep them safe, and legal.
---
---