Thu., Feb. 2, 2017
Asotin County wildlife areas closed to protect winter-weary game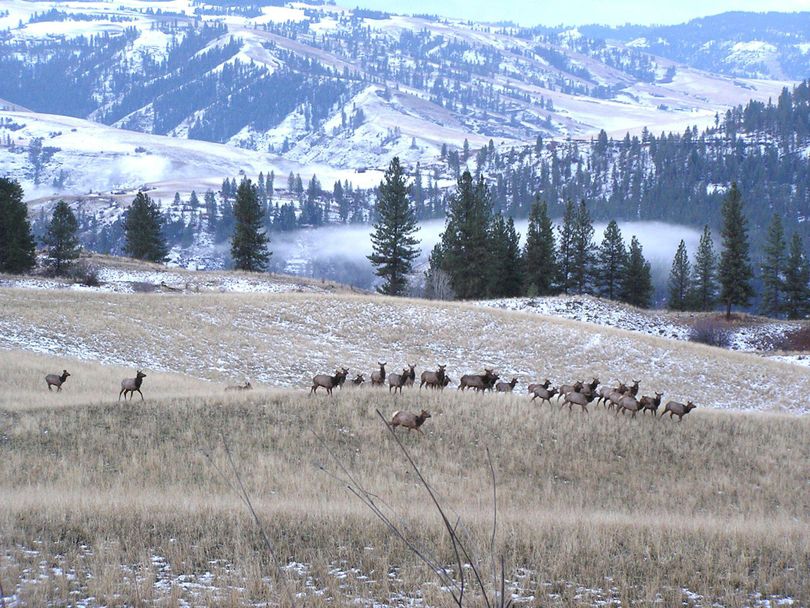 WILDLIFE -- Two large southeastern Washington wildlife areas were closed to public access today through April to prevent human disturbance to deer and elk struggling through the worst winter conditions in years.
The Washington Department of Fish and Wildlife closed the 4-O Ranch and Grouse Flats wildlife areas in Asotin County to all use.
Wildlife Area Manager Bob Dice and Paul Wik, district wildlife biologist, report the worst winter conditions in the Grand Ronde River drainage in 20 years, with snow measured in feet and extended sub-zero temperatures.
"Deer and elk observed in this area have physical signs of undernourishment," said Wik, "including exposed hip bones and eating shrub bark. We've already seen a few dead animals with no signs of predation. Conditions have not moderated substantially yet, so we need to restrict any disturbance to these animals to boost their chances of survival."
Feeding is not useful at this point in the winter, Wik noted, because it takes too long for deer and elk to adjust to a change of diet. Minimizing disturbance is the best option.
About 11,090 acres of the 4-O Ranch and Grouse Flats wildlife areas are off limits to all use, including shed-antler hunters, cross-country-skiers, snowshoers, and other recreationists.
Motorized travel on county maintained roads through the areas is allowed, and the land between the Grand Ronde River and Grand Ronde River Road remains open for fishing access.
Dice and his staff are working to post signs about the closure throughout the area.
Some parts of several eastern Washington wildlife areas have temporary closures in effect now to protect wintering wildlife from disturbance, and in some cases to keep animals like elk from damaging adjacent private lands. These winter closures, which usually run from mid-December through April 1 or May 1, include parts of the W.T. Wooten in Columbia County, Asotin Creek in Asotin County, L.T. Murray in Kittitas County, Oak Creek in Yakima County, and Sherman Creek in Ferry County.
---
---