Thu., Feb. 9, 2017
Lake Roosevelt water levels forecast posted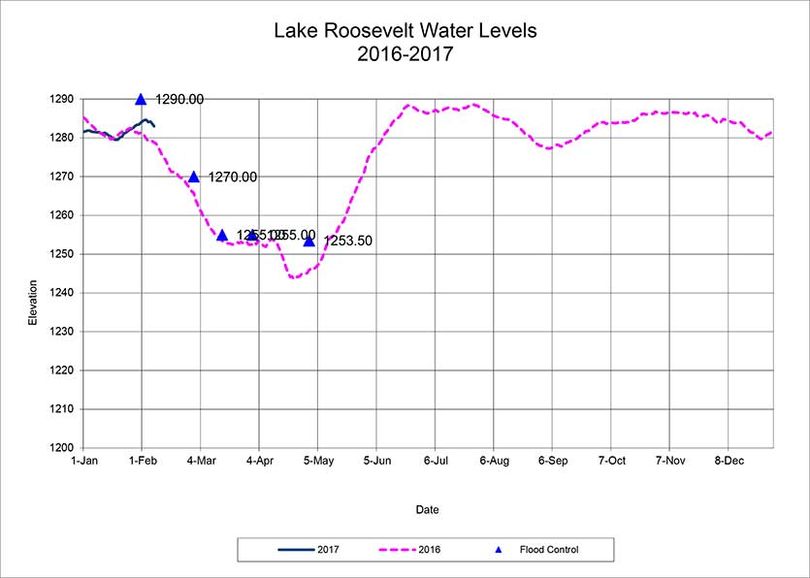 WATERSPORTS -- The revised forecast has been released for water levels at Lake Roosevelt this spring as water managers predict how how much the Columbia River reservoir will be drawn down to accommodate spring runoff and how fast it will refill to summer elevations of 1,280-1,290 feet above sea level.
The level of Lake Roosevelt was 1282.8 feet above sea level on Tuesday.
"The elevation of Lake Roosevelt is anticipated to gradually lower to 1270 by the end of February," The U.S. Bureau of Reclamation reports. "Currently Grand Coulee Dam is operating for power generation."
The current water forecast for April to August for The Dalles is 95 percent of average, down from 97 percent in last month's report.
Predicted elevations for Lake Roosevelt are:
Feb. 28: 1270.0 feet
March 15: 1255.0 feet
March 30: 1255.0 feet
April 30: 1253.5 feet
With the April flood control elevation of 1253.5, drum gate maintenance is planned for this spring, beginning in mid-March and concluding at the end of April. The lake must be at 1255 or below to perform drum gate maintenance.
The Bureau of Reclamation adds this explainer:
Flood control is the MAXIMUM allowable level of the lake in order to be able to accommodate the spring runoff. Elevations may be lower than the flood control elevation due to power operations, river operations, drum gate maintenance, emergency situations or other unforeseen circumstances

The lake level target provided in this report is only a prediction and subject to change without notice due to power operations, river operations, emergency situations or other unforeseen circumstances.
Get lake level forecast by phone, updated daily at 3 p.m: (800) 824-4916.
Check out this NOAA site with Roosevelt levels and a list of boat launching elevations on the same page.
---
---