Sun., Feb. 12, 2017
Spokane teen, former Olympian top men, women divisions in Langlauf x-c race at Mount Spokane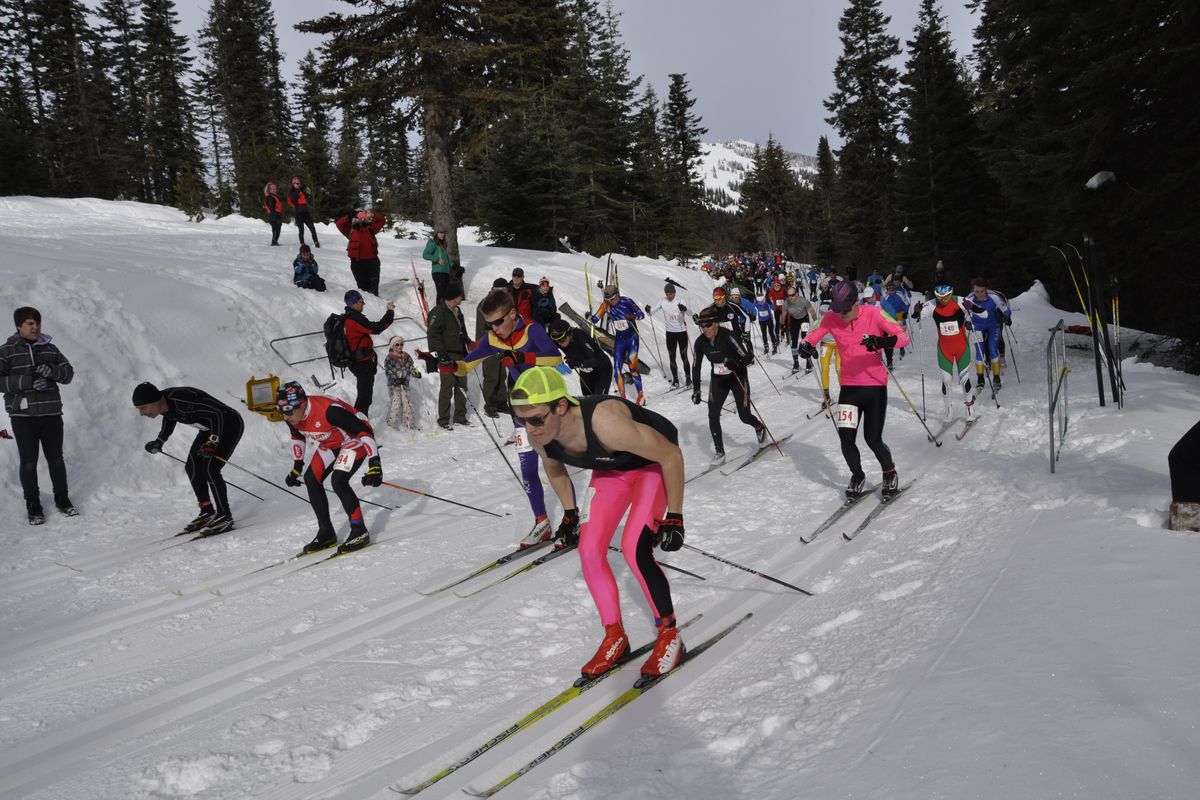 Brett Ford (yellow cap) starts just ahead of Rebecca Dussault (211) in the Spokane Langlauf 10-kilometer cross-country ski race at Mount Spokane. Ford was the overall winner and Dussault, a 2006 Olympian, topped the women's field on Feb. 12, 2017.  (Rich Landers)
WINTERSPORTS -- A Spokane teen and an Olympian who lives in Sandpoint won the men and women divisions in the 2017 Spokane Langlauf 10-kilometer cross country ski race Sunday at Mount Spokane State Park.
Brett Ford, 18, averaged nearly 14 mph to finish the course in 27:18, about 3 minutes ahead of the next fastest in the field of 219 skiers.
Rebecca Dussault, 36, who's skied at the world level in 10 countries, was the first Langlauf female and fourth overall in 31:30.
"I've been working for this for a long time," said Ford, who's placed just behind the overall winner in the previous two years of the annual event that started in 1979. Ford skied his first Langlauf at age 4 wearing a bear-head hat. Now the St. George's High School senior trains with the Spokane Nordic Junior Racing Team.
"I've tried to keep improving and getting stronger and better," he said. "I really wanted it this year."
He said he hung with the leaders for awhile "to see how they were doing" before making his move on an uphill around Shadow Mountain. "Long uphills are my strength," he said.
A fear of getting overtaken became his competition, he said. "My goal became making sure the rest of the field "never saw me again on the course."
Dussault was motivated by the instinct to get back to Selkirk Lodge and Remi, her 9-month-old baby.
The mother of six children has helped coach the Sandpoint Youth Ski League after moving with her husband and family to Sandpoint from Crested Butte, Colorado.
Dussault is a 2006 Winter Olympian, eight-time U.S. Nationals cross-country skiing champion, seven-time Junior Nationals cross-country skiing champ and a two-time women's champ in the American Birkebeiner in Wisconsin.
The devout Catholic made headlines during her Olympic years for skiing at world-class levels while keeping her faith and dedication to motherhood.
She says having two children, not her performance, kept her off the U.S. Team for the 2010 Winter Olympics in Vancouver.
With her husband as the support crew, four of her kids are ski racing, including Tabor, 15, who finished just ahead of her in and third overall in Sunday's Langlauf.
"It's something we all do together," said Dussault, who does motivational speaking. "I couldn't do gymnastics together with my family when I grew up, but I can ski with my kids and even with one on my back.
"We cheer each other on through the woods. During the seven years I was a competitive swimmer, I never heard my mom cheering for me."
Dussault, who also has two world winter triathlon titles, calls nordic skiing a life sport.
"I'll do it to my death bed," she said. "It's a sport that prepared me for professional mountain bike racing and road racing. It prepares your body and mind for whatever sport you want to do."
---
---