Wed., Feb. 15, 2017
Impact of wolves on elk, deer, cougars studied in predator-prey research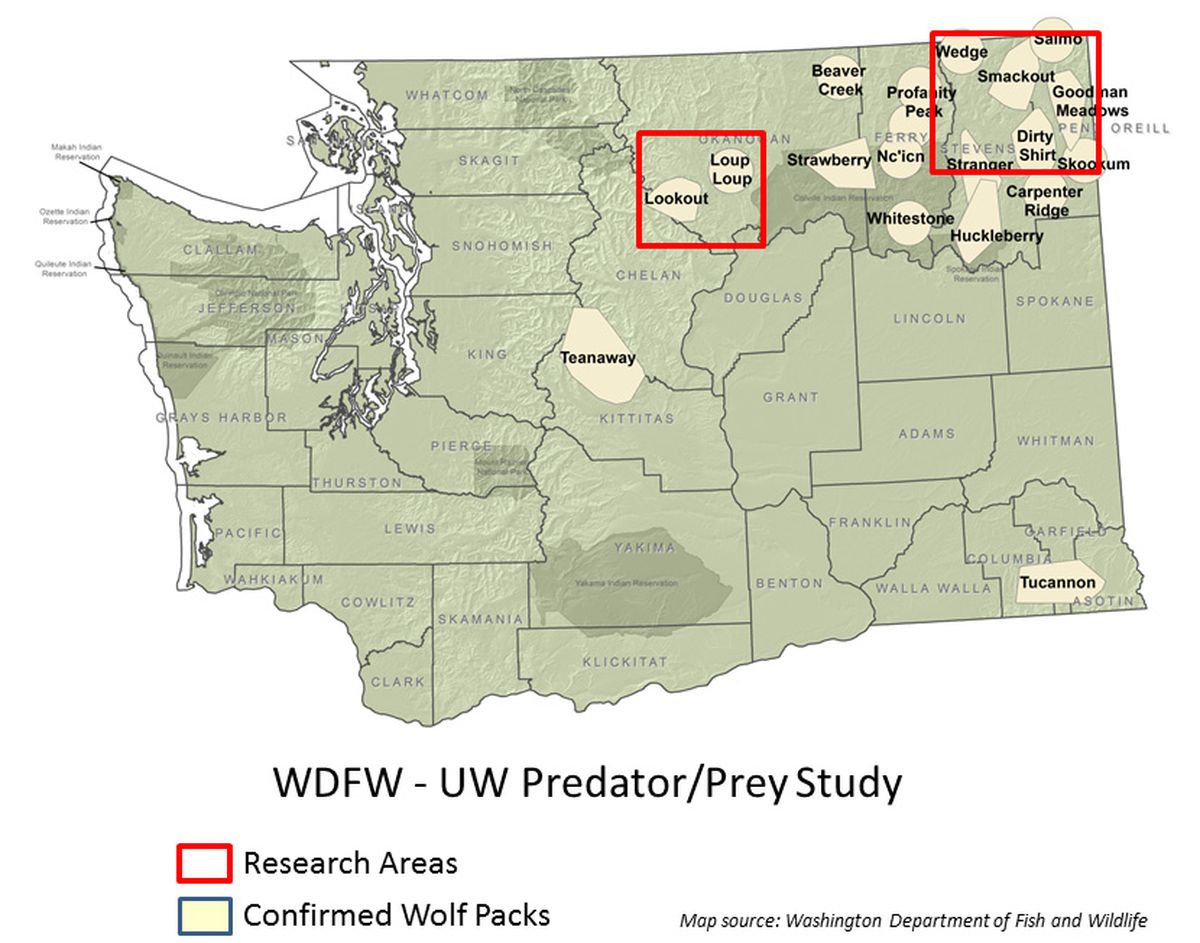 Map shows how a state predator-prey study area overlaps with ranges of some wolf packs in northeastern Washington. (Washington Department of Fish and Wildlife)
WILDLIFE -- A study has been launched in northeastern Washington to determine how eight years of growth in the state's wolf population is affecting other wildlife species.
The Washington Department of Fish and Wildlife and the University of Washington are collaborating on the study, which is scheduled to last at least five years.
Researchers will assess the health of deer and elk herds in northeast Washington, where they support hunting and other recreational opportunities while providing prey for wolves and other predators, such as mountain lions.
"The experience in other western states shows that wolves and other predators may affect the size and behavior of deer and elk herds," said Eric Gardner, head of the WDFW Wildlife Program. "We want to take a closer look at the situation here in Washington state as our own wolf population continues to grow."
Researchers will also examine the response to wolves by other predators, especially cougars, said Gardner, noting that the study will dovetail with an ongoing research project on moose in northeast Washington.
As of June 2016, WDFW had confirmed the presence of 19 wolf packs and at least 90 wolves in Washington state – up from a single pack with five wolves in 2008. Most of the growth in the state's wolf population has occurred in northeastern Washington, where the new study is underway.
In January, WDFW research scientists and field biologists began capturing deer, elk and cougars and fitting them with radio-collars to monitor their movements. Capture techniques include trapping animals using bait, steering them into nets, and darting them from helicopters with immobilization drugs.
The goal is to keep 65 white-tailed deer, 50 elk and 10 cougars collared in one study area that includes areas of Ferry, Stevens and Pend Oreille counties, said John Pierce, chief scientist for the WDFW Wildlife Program.
In addition, researchers plan to collar 100 mule deer and 10 cougars in a second area in Okanogan County.
Some wolves are already radio-collared in those areas, but researchers want to maintain collars on at least two wolves in each pack within the study areas, Pierce said.
Pierce asks that hunters who kill a collared deer or elk contact the department so researchers can recover the collar.
UW students will join state research scientists and field biologists to monitor radio-collared animals and track their movements, distribution, habitat use, diet, productivity and survival. Cougars will be monitored to learn about changes in social behavior, prey selection and predation rates in areas where wolves also occur.
"This study concentrates on multiple-use lands used by people for activities such as logging, livestock ranching and hunting," Pierce said. "In that way it differs from most other studies on the impact of wolves, which tend to be conducted in national parks and other protected areas."
Principal investigators from WDFW and UW will periodically develop and publicly share progress reports about the study over the next five years.
Funding for the five-year study includes $400,000 from a 2015 state legislative appropriation, $450,000 in federal Pittman-Robertson funds and $150,000 of WDFW funds. The UW also secured nearly $900,000 in National Science Foundation grant funds for the project.
---
---