Mon., Jan. 2, 2017
Aerial big-game surveys to begin in Idaho Panhandle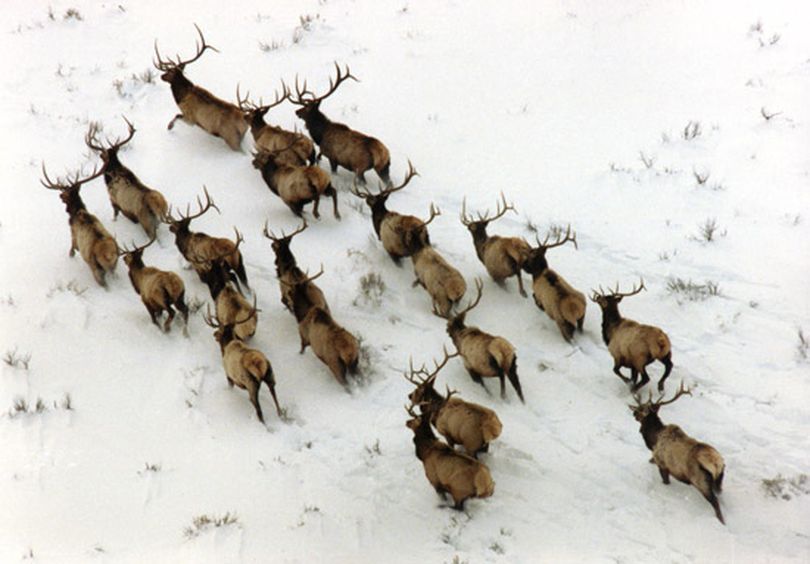 WILDLIFE -- Aerial big game surveys are scheduled in the Panhandle Region and other portions of the state during January as the Idaho Fish and Game Department collects data on deer and elk numbers.
"We want to give folks a heads up regarding these operations," said Craig White, the agency's Deer and Elk Program coordinator. "They may see a low-flying helicopter working in their favorite area."
Panhandle Region staff will be flying to survey elk in Units 1, 4, 6, and 7 starting in early to mid-January, depending on weather, said Wayne Wakkinen, regional wildlife manager. "We are also going to try to fly mountain goats in Units 7 and 9 while we're up the St. Joe.
"If it goes like it usually does up here, we'll get a day here and a day there in between snow storms and fog.
"We're also trying to helicopter capture 60 elk calves -- 30 in Unit 4, 30 in Units 6/7 -- and 20 cows in early January. The intent is to keep a collared sample of GPS-collared elk for survival, movement and seasonal habitat use studies."
This information, together with the flight survey data, will be used to determine the overall health of Idaho's mule deer and elk herds, which plays an important role in determining future big game hunting seasons.
---
---