Mon., July 17, 2017
Using bait for wolf hunting proposal on agenda for Idaho Fish and Game meeting in Bonners Ferry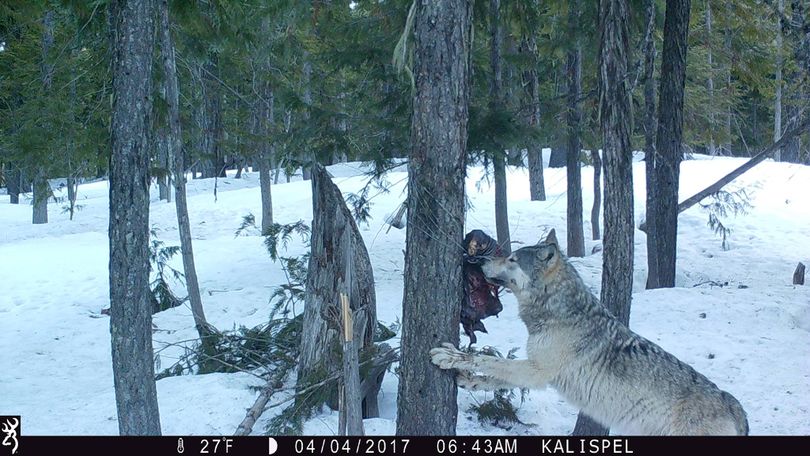 PREDATORS – After weeks of discussion, the Idaho Fish and Game Commission will consider several changes to hunting rules, including allowing the use of bait to hunt wolves during a regularly scheduled meeting July 26-27 in Bonner's Ferry.
The department is proposing the rule change in response to requests from hunters who want to use bait for hunting wolves outside of the black bear seasons.
Under current rules, wolves can be killed by hunters when they are attracted to bait set out for black bears, where hunting seasons are open for both black bear and wolf. But big game rules do not allow use of bait specific to hunting wolves.
The Department of Fish and Game is seeking public comment on the proposed changes until July 26.
If the rule goes into effect, Idaho would be the only state in the country to permit wolf baiting during a hunting season, although bait is allowed for trapping in areas where wolves are not protected.
The state's estimated wolf population rose to a high of 856 in 2009, dropped to 684 by 2013, then rose again to 786 by the end of 2015, according to the Department of Fish and Game.
Under agreements made before the 1995-1996 reintroduction of wolves to the Norther Rockies, the minimum threshold for wolves in Idaho in order to keep from reverting back to endangered species protections was 100.
Another proposed hunting rule would restrict the use of trail cameras and similar unattended devices for hunting all big game. Also restricted would be the use of electronic two-way communication devices, such as cellphones and radios, as an aid to hunting.
Department of Fish and Game spokesman Mike Keckler said the commission will review the comments it receives on those and several other proposed rules during its meeting July 27 in Bonner's Ferry.
Hunting proposals are further detailed in this media release from Idaho Fish and Game Department:
When the Idaho Fish and Game Commission meets July 26 & 27 in Bonners Ferry, they will consider routine agenda items, as well conduct formal rulemaking to consider rules that are simple in nature and do not implement new regulatory requirements.

Individuals may provide comments on these rules at the Commission public hearing beginning at 7 pm, Wednesday, July 26 at the Best Western Kootenai River Inn, 7169 Plaza Street.

The proposed rules are:

Revise reference to mandatory school for Unit 39 controlled archery hunt to reflect current implementation of mandatory hunter orientation.
Revise rule prescribing elements of Mandatory Harvest Report Form submission to reflect current implementation.
Refine reporting requirements for wolf harvest to rescind telephone reporting, which is no longer applicable to management because there are no longer zone quotas. Mandatory check of harvested wolves will still be required.
Consider a temporary and proposed rule that would rescind rule requiring payment of moose, bighorn sheep, or mountain goat tag fee at the time of controlled hunt application to coincide with the new, increased application fee for these species beginning with 2018 license sales.

A detailed agenda, including a draft of the rule proposals, will be posted on the Fish and Game website when it becomes available. Individuals with disabilities may request meeting accommodations by contacting the Idaho Fish and Game director's office at 208-334-5159 or through the Idaho Relay Service at 1-800-377-2529 (TDD).

Should the Commission adopt any of the proposed rules, they are published for an additional 21 day public input period in the Administrative Bulletin before the Commission adopts them as pending rules, at which point they must be upheld by the 2018 Idaho Legislature to become final rules.
---
---