Mon., July 17, 2017
Wyoming in record-setting tit for tat with beef-liking wolves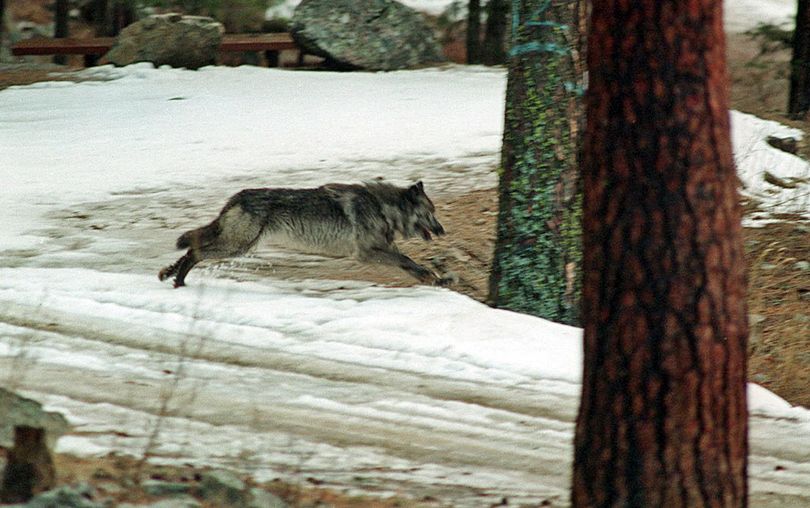 PREDATORS -- Gray wolves killed a record number of livestock in Wyoming last year, and wildlife managers responded by killing a record number of wolves that were responsible, according to a new federal report.
The report released by the U.S. Fish and Wildlife Service and reported by the Associated Press found that wolves killed 243 livestock, including 154 cattle, 88 sheep and one horse, in 2016. In 2015, 134 livestock deaths attributed to wolves were recorded.
Last year's livestock losses in Wyoming exceeded the previous record of 222 in 2009.
As a result, wildlife managers last year killed 113 wolves that were confirmed to be attacking livestock. In 2015, they killed 54 wolves.
Here's more from the Associated Press.
Previously, the most wolves killed in Wyoming in any year for killing livestock was 63 in 2007.

Scott Becker, wolf program coordinator in Wyoming for the Fish and Wildlife Service, said managers can only speculate on why conflicts between wolves and livestock increased so much last year.

"I don't think we'll ever know with any certainty why one year is bad and another year not quite so bad," Becker said. "It's just the dynamic nature of managing wolves, and as managers we try to do our best to minimize that chronic loss of livestock if at all possible."

Jim Magagna, executive vice president of the Wyoming Stock Growers Association, said the problem is too many wolves are allowed to populate areas where cattle and sheep graze.

"Even though Wildlife Service was responsive to livestock losses, their approach has been that they wouldn't remove any wolves anywhere in the state until there had actually been losses," Magagna said.

Andrea Santarsiere, senior attorney of the Center for Biological Diversity based in Victor, Idaho, blames ranchers for not using nonlethal methods, such as portable electric fencing, to keep wolves away from livestock.

"And so when you have native predators on the landscape and non-native livestock on the landscape it's not surprising that the predators are going to view them as prey," Santarsiere said.

At least 377 wolves were counted in the state in 2016, according to the federal report.

Unlike Wyoming, neighboring Montana and Idaho are no longer subject to federal monitoring and are not part of the Fish and Wildlife Service report this year. Both states are still monitoring their wolf populations but are working on different and less expensive ways of counting wolves.

Montana estimates its wolf population at 477 in 2016, while Idaho does not have a count for 2016. Idaho's last wolf count was 786 in 2015.

Wyoming has had a complicated history with wolves, which were reintroduced to Yellowstone National Park in the 1990s after they had been hunted and trapped out of existence throughout most of the continental U.S. last century.

Wolves were a protected species in the state until 2012, when they were delisted and handed over to the state to manage. A federal judge in 2014 reinstated federal protections for the wolves in Wyoming, but that ruling was overturned by a federal appeals court last March, allowing Wyoming to regain management.

When wolves in Wyoming were under federal control, they enjoyed protection throughout the state.

Under Wyoming's management, wolves remain protected in Yellowstone and Grand Teton national parks and the National Elk Refuge. Areas adjacent to the parks will be subject to a tightly regulated hunting season, which is expected to be approved soon by the Wyoming Game and Fish Commission. In the remainder of the state, wolves can be killed throughout the year without a need for a license, except on the Wind River Indian Reservation, which oversees management of wolves on its land.

Ken Mills, large carnivore biologist with the Wyoming Game and Fish Department, said Wyoming's wolf management plan seeks a reduced but stable population of wolves.

"Usually the fewer wolves you have the less conflicts you have," Mills said. "It's not 100 percent but that is certainly the goal of the state."
---
---