Mon., July 31, 2017
Outdoor retailers say goodby to Utah with rally for public lands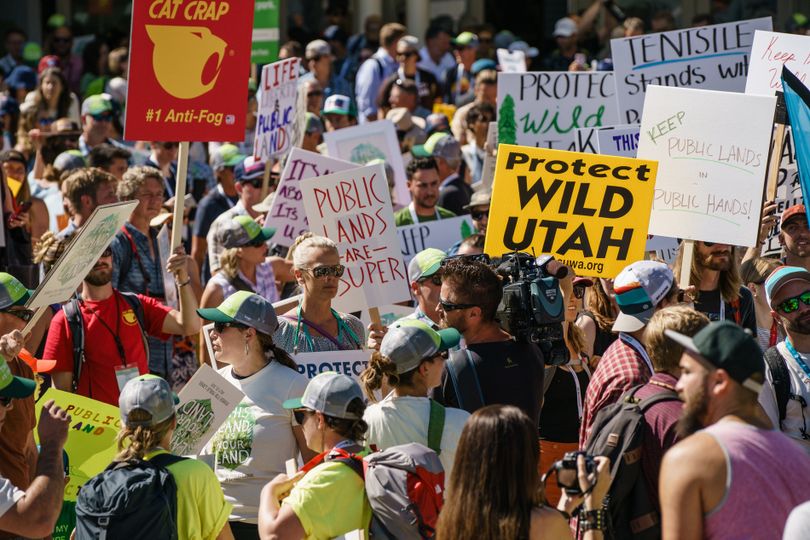 RETAILERS – Around 2,500 people marched in Salt Lake City Thursday to show support for federal public lands in a departing salvo from the Outdoor industry.
The rally marks the end of the Outdoor Retailer trade shows' 22-year association with Salt Lake. The Outdoor Industry Association vowed earlier this year to move the lucrative winter and summer shows to Denver, Colorado, when Utah's governor and other lawmakers would not back off anti-federal land stands.
"This march is the outdoor industry's opportunity to demonstrate our collective conviction that public lands belong to every citizen of the United States, and they are not only the foundation of our industry, they are fundamental to our national heritage," said Amy Roberts, OIA executive director.
A recent poll by the Theodore Roosevelt Conservation Partnership found that 97 percent of sportsmen and women – hunters, hikers, anglers, skiers, paddlers and more – support conserving and protecting public lands for future generations, she said.
"I believe the biggest danger to our UNITED, overwhelming support for public lands is to allow others to paint this - cynically - as a partisan issue," said Jerry Stritzke, CEO of REI. "We cannot allow ourselves to fall into that trap, because public lands are for all."
Mayor Jackie Biskupski, who has taken exception with state leaders on protection of national monuments and other federal lands, left the door open for the retailers.
"Let me be very clear," he said, "Salt Lake City will always be your ally in the fight to protect and preserve public lands."
Instead of leaving mad, the Outdoor Foundation and Outdoor Industry Association announced a new campaign through the Utah Parks4Kids initiative to fund youth and parks projects across the state as a way to get Utah kids to explore Utah's public lands.
"The grants are a way to say thank you to the Utah and the Salt Lake City community for hosting Outdoor Retailer for over twenty years and a way to continue investing in the state of Utah, public lands and outdoor recreation," the association said in a media release.
The rally comes on the heels of the Outdoor Industry Association's release of their Outdoor Recreation Economy State Report at Outdoor Retailer. The report says the outdoor recreation economy generates $887 billion in consumer spending annually and directly sustains 7.6 million American jobs.
---
---