Tue., March 7, 2017
Spokane's 'Lipstick' Hagood impaled in face by branch while tree skiing at Jackson Hole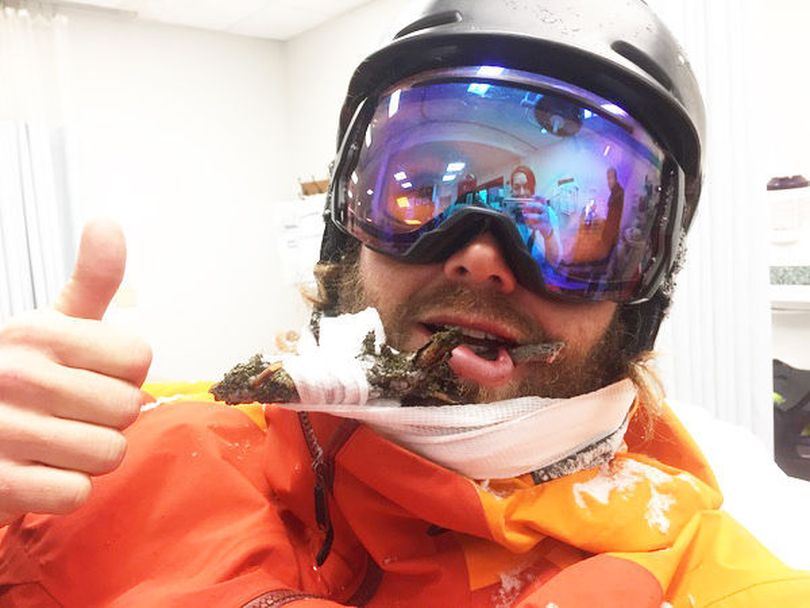 WINTERSPORTS -- A former Spokane man, now a ski instructor for Jackson Hole Mountain Resort in Wyoming, became a human kabab on March 1 as he impaled his face on a branch while trying to jump between two trees.
"I drool more than I used to," Nathaniel "Natty" Hagood, 29, told a reporter after his hospital treatment to remove the stick that pierced one side of his mouth and continued through the lip and cheek on the other side.
According to the story in the Idaho State Journal, Hagood was making his first run of the day showing a friend around the mountain.
"I had made the first five turns and was coming back to lift line when I saw a gap between two trees. With my experience, you can bash between trees and it's not that big of a deal. But this time I guess I didn't get away with it."

Hagood collided through the trees, which knocked him off balance, and he tumbled through the snow.

"I thought maybe my chinstrap got pushed up into my face, so I tried to brush it off and that's when I felt the stick," he said. "So, I shook left to right and saw the stick moving in my peripherals. I reached out and grabbed it and wiggled it before realizing it was pretty far in there."

That was when Hagood had his first aha-moment. He said, "Holy crap, I just got impaled. And then I yelled over to Pete, 'Hey look I got a new piercing.'"

Apparently, the incident occurred so quickly that Hagood experienced zero pain from the impalement, which left an 18-inch long timber branch gouged through one side of his lip and sticking out the other.

Ski patrol said that he needed to brace it before riding down.

"It was initially about a foot and half long," Hagood said. "But I braced it against my cheek and snapped it down to about 6 inches. Ski patrol was all like, 'You're crazy, man.'"
Doctors removed the stick and patched him up with 15 stitches and sent him home with a bill for $1,500, which friends have quickly helped pay with donations to a Go-Fund-Me account.
Good humor runs in the family. Upon seeing the photos and the news reports, including the Washington Post, Hagood's mom in Spokane, Rebecca Mack, posted a photo on Facebook and said, "Hey, national celeb son Natty Hagood, was the bark as bad as the bite?"
Back on the slopes a day later, it seems that the only thing Hagood lost from the ordeal was his Natty nickname.
His new moniker, according to ski students and the local community, is "Lipstick."
Incidentally, Hagood had won the hearts of resort goers the previous week by skiing in wearing a pink cap to stop a fight between skier and a snowboarder, caught on the video below. He said he preaches a "violence is not the answer" message on and off the slopes.
---
---