Mon., March 20, 2017
Kayaking video shows dramatic Spokane River flow change, spring v. fall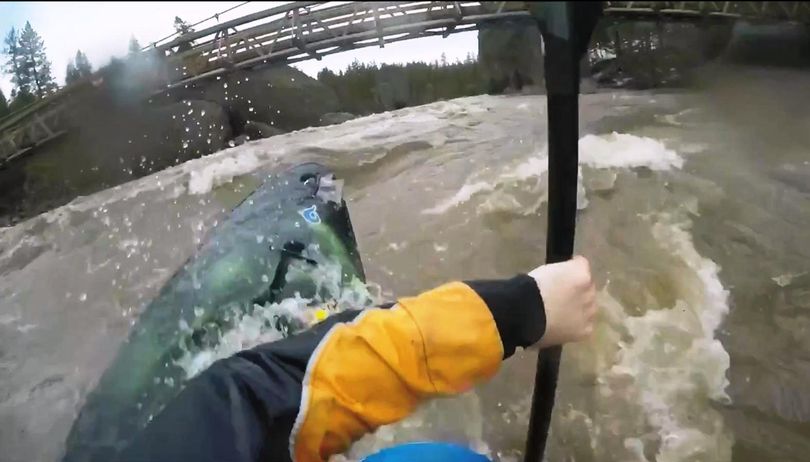 UPDATED 2:10 p.m. with better news about sewage discharges.
WATERSPORTS -- The mood of the Spokane River changes dramatically through the seasons, and no one knows that more intimately than a kayaker.
In this short video, Spokane paddler Brian Jamieson starts with a clip of paddling through the Bowl and Pitcher rapids at fall flows of 1,300 cubic feet per second.
Then he shows what the same stretch of river was like from the paddler's point of view last week at spring runoff flows of 22,000 cfs.
Note how some of the rapids are washed out by the big water, but the waves are bigger and the speed of the river flow is significantly faster this time of year.
And the Spokane River can get much bigger than this -- around 38,000 cfs this weekend.
Skills, dry suits, partners and good sense required at any spring level.
This week? How about taking a hike?
Monday morning alert on river health from Spokane Riverkeeper Jerry White is updated here with a little less dire news:
Safety Alert Update: We have clarification that you all should know about.

One CSO is flowing to the river into Hangman Creek. The Town of Rockford was discharging more than permitted into the creek but it was receiving primary treatment. Ecology has not heard back from the towns of Tekoa, Spangle or Fairfield about their discharges in the creek and whether they exceeded flows. This is better news than initially reported. Use caution and know that flood waters are dirty.

Jerry White, Jr

Spokane Riverkeeper

Center for Justice
---
---