Wed., March 22, 2017
County bans access to flooding Spokane River, but offers no threshold for safety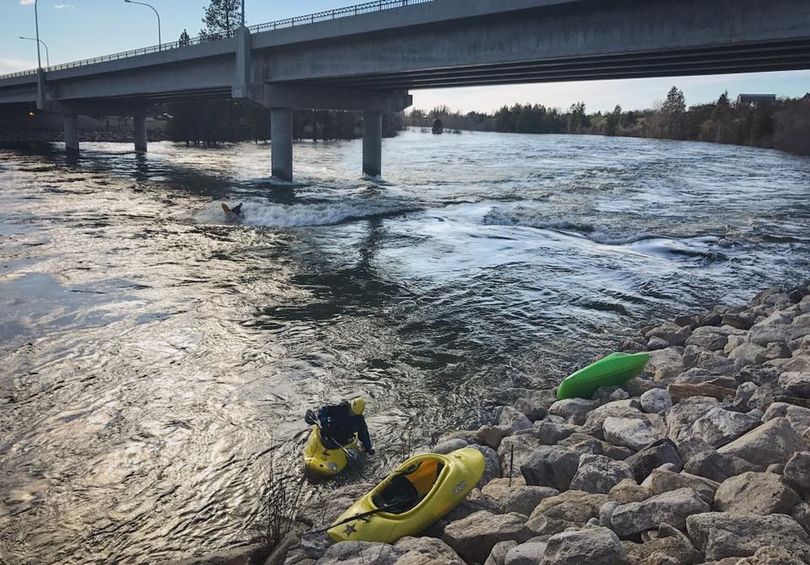 WATERSPORTS -- Expert kayakers relished the high Spokane River flows last week to play in Dead Dog Hole at the state line.
However, because of concerns about flood-stage flows and large amounts of debris in the river, the cities of Spokane and Spokane Valley and ultimately the Spokane County Commission on Tuesday temporarily banned access to the river until it subsides.
County officials say the river is dangerous, which it is, and they want to avoid putting their emergency crews into risky rescue situations.
The emergency order makes no exception for expert paddlers who might be well within their skill level to play in big waves on portions of the river.
No threshold has been announced for what flow level triggers the order or at what level the order will be withdrawn, leaving experienced kayakers to remove their helmets and scratch their heads.
Here's the decree from the Spokane County Commission:
After a briefing from the Spokane County Sheriff's Office, the Spokane County Board of Commissioners, in a unanimous vote, put into effect an Emergency Order restricting access to the Spokane River.

Due to its extremely high flow rate and frigid temperature, The Spokane River poses an extreme danger to the public. The order enacted by the Board of County Commissioners prohibits the public from intentionally entering, swimming, diving or floating with or without a boat, raft, craft, or other floating device in or upon the water of the Spokane River as it flows within the unincorporated area of Spokane County.

The Spokane County Sheriff's office has been directed to take appropriate action to enforce this Emergency Order for the public health, safety, and welfare.

The Spokane County Board of Commissioners encourages all other public entities within whose boundaries the Spokane River flows to take a similar action.

The Emergency Order shall be in effect until further notice by the Board based upon a recommendation of the Spokane County Sheriff and/or Undersheriff.

Chair of the Board of Commissioners, Al French stated, "We know that it can be tempting to witness the historic levels of the Spokane River, but it is very important to know how dangerous and unpredictable the river can be. We are asking all citizens to please stay out of the water for your own safety and for the safety of our emergency response personnel."
---
---