Fri., March 24, 2017
Spokane River closure leaves play-wave kayakers high and dry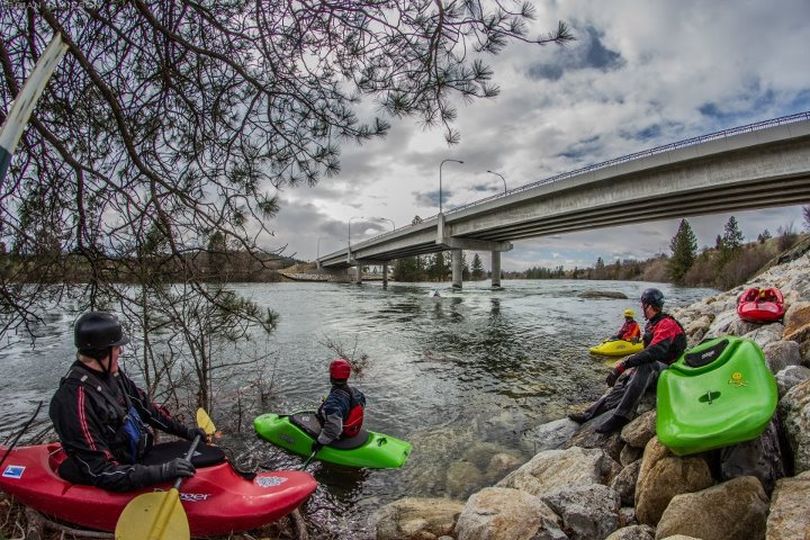 PADDLING – Expert kayakers have been watching a rare and fleeting opportunity flowing by this week.
The Spokane River is running at flood stage and some play waves are in prime condition for doing tricks that can't be done at lower flows.
"This is a year we see once, twice, three times maybe in a lifetime," kayaker Judd Kaiser told KREM 2 at Dead Dog Hole this week.
However, at the request of the Sheriff's office, Spokane County Commissioners issued a temporary river closure on Tuesday.
Sheriff Ozzie Knezovich said the overriding concern for closing the river was the risk to first responders who would be called for a rescue.
"The men and women who have to go on the river and get somebody say it's unsafe for them to get on the river," Knezovich said Friday. "The safety folks who have all the training and gear say it's unsafe."
The flooding river is pushing water into areas that would be dangerous for recovering victims, dead or alive, he said.
"If they get sucked into those areas, there's so much debris and stuff we don't know about, it could disable the (rescue) boat and both parties would be in trouble."
He compared closing the river with highway officials closing Snoqualmie Pass because of snow and avalanche conditions.
Steve Bailey, sees the situation differently through the eyes of a semipro paddler who's also a firefighter.
"From my perspective, the river has a high level of risk in all flows," he said. "Right now, it's fast, cold and flowing into vegetation that could create strainer situations.
"As it drops, the water has more hydraulics with more risk of capsizing, foot entrapment (in river bottom rocks). Most problems with inexperienced paddlers are in lower water and warmer weather."
Bailey and other paddlers were ordered to get out of the river at Dead Dog Hole at the stateline this week by a Sheriff's deputy who informed him of the river closure.
"These situations could be used to inform the public about respecting and understanding moving water rather than about fear and closure," Bailey said.
Knezovich said he understands that some paddlers have the skills to handle big river flows. "But if a tree comes in and smacks them in the head, they can no longer deal with it."
He said the river may be reopened in a week or so, "if the sky will quit leaking," but he did offer a specific flow rate that he would consider safe. He said he wanted to assess the conditions as they change.
Kayakers aren't happy about that approach.
"When the river is high its very dangerous to rescuers and I understand that," Bailey said. "There's a danger at all levels. At what point are city and county officials willing to take the risk of telling the public the river is safe?"
THE CLOSURE affects people in different ways. I've heard that Peak 7, which takes inner-city kids on outdoor adventures, was scheduled to have their guides get their "swift water river rescue" re-certifications on the Spokane River. Because of the closure, the group is going to the Deschutes in Oregon. Those who can't make that trip won't be able to be lead guides this season.
BELOW is a sampling of the reaction to the Spokane River emergency closure as posted in a thoughtful thread on my Facebook page:
Rivers are risky at any level, any season to those unaware of the dangers. Those that do know the risks, have the proper gear, skill, find these rare high flows exhilarating, challenging and rewarding. This kind of "ban" is akin to closing off bicycle, pedestrian lanes during heavy traffic in the interest of safety.
Paddle away. Just don't expect someone else to risk his/her life to rescue you.
I understand their reasoning behind the decision but disagree. As have been kayaking at similar levels in the past. I think they should just say that they are not authorizing water rescues until the river reaches a specific level.
I'm guessing that no one commenting here IS a first responder. Being a retired ICU RN who cared for the 1st aids patients (in a level I trauma hospital) before we knew what it truly was or how exactly it was transmitted - one has an inbred sort of need/desire to help people. If some (I am not speaking for all by any means) 1st responders saw someone flailing in the river they WOULD help them - not just sit on the bank & watch them drown. Same reason fire fighters go IN to burning buildings - to help people. Sitting back we can joke (or be serious) about letting people live or die as a result of their own stupid choices so long as they were warned. But when the rubber meets the road - 1st responders will help regardless.....I don't view it as government making choices for people. Oh, and before people attack me - I kayak as well (not by ANY means a skilled white water kayaker....yet I can understand the desire to go.)
Tom Walker
The people that use the hole at state line are always prepared for anything. They are for the most part experts. They set up all their own safety and are prepared to rescue their own and in some cases have help in the rescue of people that should not be on the water. I feel they should be allowed to use the hole that they all know and are there every year. The water belongs to all of us. They all know the risks too.
Mary Franzel, I am a first responder, from a family of first responders, a certified advance swift water technician, and a 15 year kayaker that spends over 140 days a year in white water. I strongly and respectfully disagree with your opinion for a few reasons.
From the perspective of an experienced kayaker I can say with out a doubt that the kayakers this discussion is geared towards are experienced in rescue, safety concious, and have never needed to be rescued by a first responder. Typically those that need rescue in the Spokane are the uninformed that enter the waters with little knowledge and/or respect for the river, improper equipment, and will get themselves into those situations any time of the year at any flow level.
With that, from the perspective of a first responder. ... Any rescue in the river is dangerous at any flow or time of the year. We call these, low frequency and high risk situations. They are not a regular occurrence so we rely on our training and minimal actual rescue experience--low frequency. Any river is dangerous at any level with many hazards to be respected--high risk. This is why we start with a rescue model of low to high risk actions. First reach with your voice and then a rope or object. This keeps the rescuer out of the water. Then first send someone in a water craft if possible to again avoid putting bodies in the water. And finally the highest risk action is to put rescuers in the water. All while having safety set to ensure the safety of the rescuers.
---
---