Mon., May 1, 2017
Climbing community absorbs death of Swiss mountaineer, Ueli Steck, with grim resignation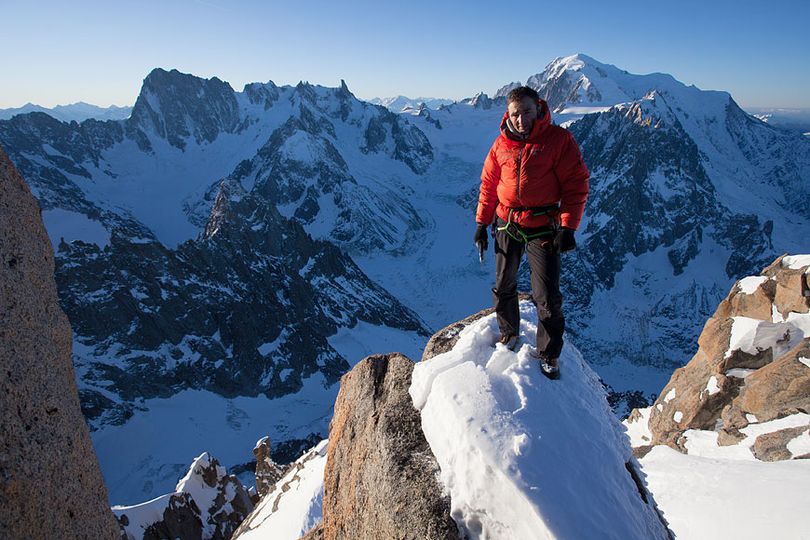 CLIMBING -- The 3,280-foot tumble to the doom of famed mountaineer Ueli Steck, 40, near Mount Everest in Nepal this weekend chilled and saddened climbing enthusiasts around the world, but surprised no one.
The Swiss Machine had pushed the on-the-edge art of solo speed climbing on peaks such as The Eiger and the south face of Annapurna beyond comprehension, and certainly into the death zone in many ways. The brilliant alpinist was awesome, but so are the mountains.
Jess Roskelley, 34, of Spokane, a world-class climber who just recently completed an inspiring five-day first ascent of the Gauntlet Ridge (the Complete South Ridge) of Alaska's Mount Huntington (12,240 feet), posted this Facebook comment on Steck's death:
I met Ueli at the 2014 Piolets D'or. He was a great guy and amazing athlete. It's always disappointing to see these legends go whether it's climbing or old in their beds. Every climber has a gauge of subjective risk. I've always felt Ueli's was higher than most but this is also how he pushed the sport to what is has become today. The bottom line is if you gamble enough your gonna lose. We are all aware of that. My thoughts are with his family.
Following is the initial story posted by the Associated Press. Be sure to read to the poignant ending:
Mingma Sherpa of the Seven Summit Treks said Steck was killed at Camp 1 of Mount Nuptse. His body has been recovered from the site and been taken to Lukla, where the only airport in the Mount Everest area is located.

It was not clear how Steck died but he was planning to climb 8,850-meter (29,035-foot) Mount Everest and nearby Mount Lhotse next month.

He was the first casualty in the spring mountaineering season in Nepal that began in March and will end in May. Hundreds of foreign climbers are on the mountains to attempt scale Himalayan peaks in May when there are a few windows of favorable weather.

The 40-year-old Steck was one of the most-renowned mountaineers of his generation. He was best known for his speed-climbing, including setting several records for ascending the north face of the Eiger, a classic mountaineering peak in the Bernese Alps that he climbed in two hours and 47 minutes without using a rope.

In 2013 he achieved the first solo climb of the Annapurna south face in Nepal after almost losing his life in a fall there in 2007. For that he received the "Piolet d'Or" — considered the Oscar of mountaineering — the following year.

In 2015, Steck decided to climb all 82 peaks in the Alps higher than 4,000 meters (13,100 feet) traveling between mountains by foot, bike and paraglider only. He completed the feat in 62 days, helping cement his reputation as the "Swiss Machine."

Steck said in an interview last month with Swiss daily Tages-Anzeiger that he considers himself an "outsider" in the mountaineering scene because athletic achievement is more important to him than adventure.

Asked about his upcoming Everest-Lhotse expedition, involving a quick climb from one peak to the other including an overnight in the "death zone," Steck said: "When I'm on Everest I can stop at any point. The risk is therefore quite small. For me it's primarily a physical project. Either I get through, or I don't have the strength for the whole traversal."

Asked what he would consider to be success on his expedition, Steck told Tages-Anzeiger: "Of course I want to climb Everest and Lhotse. But that's a very high goal. Failure for me would be to die and not come home."
Other coverage to date (and there will be much more) includes:
Alex Honnold, a young professional rock climber known for steel-nerves and free-climbing ascents, is quoted as follows in an Outside online story featuring comments from people who knew Steck well:
Last summer, I was in Switzerland and we climbed together. It feels like we were just at his house having dinner. We had some rice and veggie dish. Fondue was not his jam. It's fair to call him one of the most cutting-edge climbers and certainly one of the fastest. He was the first to bring Olympic-style training to the sport. I think the thing that I took away from spending time with him was his dedication to training. Climbing is a lifestyle, but he was one of the first to systematically take the sport to another level. He was at such a high level and so disciplined. We'd go climbing together, and he'd be climbing as hard as we were, but then he'd go for a really long trail run. The climbing was just one tiny piece of his day. He'd be the first to tell you he wasn't the most talented climber, but he worked and worked at it until he became the climber he wanted to be. Ueli was so solid. I'm starting to realize, though, that doesn't matter. I though the same about Dean Potter. There's always a degree of randomness involved.
---
---