Tue., May 9, 2017
Lake Roosevelt refilling as Columbia River spring runoff pours in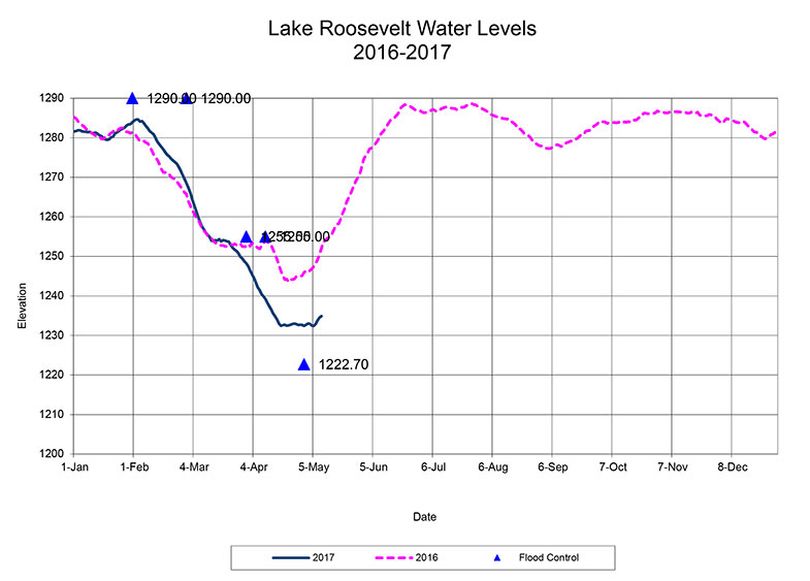 RESERVOIRS -- Spring runoff is picking up, especially in the mountains of Canada, and Columbia River dam managers have begun refilling Lake Roosevelt more than a foot a day.
The elevation of Lake Roosevelt behind Grand Coulee Dam was 1234.90 feet above sea level at 8 a.m. today. The U.S. Bureau of Land Management has set a target elevation of 1,262 feet by May 31. The pool will continue to refill to summer elevations of 1,280-1,290.
In April, at the request of the Colville Tribe, the Corps of Engineers and Bureau of Reclamation halted continuation of what likely would have been a deep drawdown in order to keep the water level high enough -- above 1,232 -- to keep the Gifford-Inchelium Ferry operational. Avoiding deeper drawdown likely improved fishing and prevented more trout and kokanee from being flushed downstream over Grand Coulee Dam.
Currently the pool is high enough to allow at least four of Lake Roosevelt's boat ramps to be operational. More ramps will become usable as the water level rises. The Porcupine Bay launch and campground will continue to be closed because of a landslide blocking the access road.
The range of elevations for the operation of Lake Roosevelt is 1208 – 1290 feet. Below 1208 feet, the power generating capacity of Grand Coulee Dam quickly diminishes.
Lake Roosevelt usually is targeted for full pool elevation around June 30 to store water for power generation and lower Columbia River flow targets later in the year when the river flow into Lake Roosevelt decreases. Because power demand is extremely low during the holiday, the lake rises over the Fourth of July Holiday as water is not being run through the generators.
The downside of full pool is the loss of sandy beach area for camping and recreating.
Check out this post with a link to a NOAA site with updates on Roosevelt levels, which includes a list of boat launching elevations on the same page.
---
---