Tue., May 9, 2017
Spokane whitewater rafter, 60, drowns in Moyie River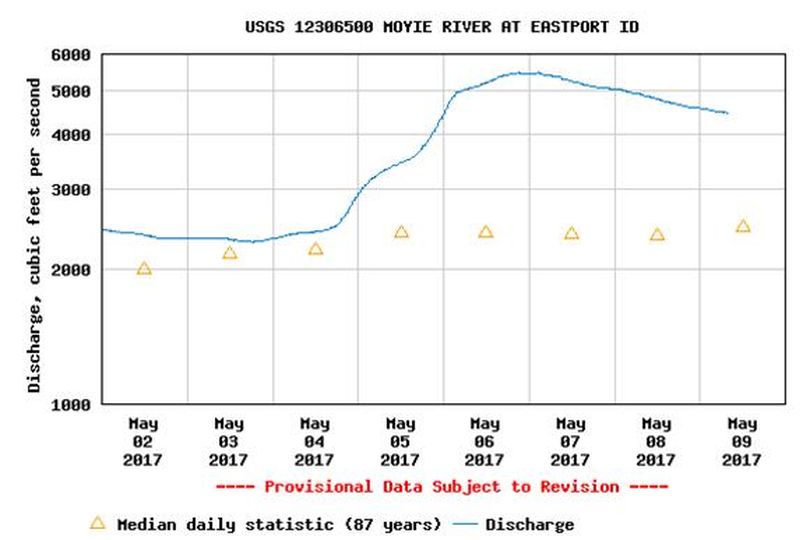 UPDATED 10 A.M. on May with details from Sheriff.
WHITEWATER -- A 60-year-old Spokane man apparently drown in a whitewater rafting accident and was found face down, floating in North Idaho's Moyie River near the Moyie Dam on Monday, according to Boundary County Emergency Management.
Paramedics said James Harston was wearing a wet suit and life jacket at the time he died.
Witnesses told Boundary County Sheriff's Office that they had seen the victim fall into the river from his raft by Meadow Creek Campground on Monday and because of the speed of the river, the group was unable to reach him.
The Sheriff's Office had posted a flash flood warning for Friday because of area thunderstorms. The U.S. Geological Survey gage at Eastport showed a significant spike of Moyie River flows from 2,500 cfs to 5,500 cfs through the weekend.
The Northwest Whitewater Association canceled its planned weekend trip to the Moyie because of river conditions, a member said Tuesday.
Boundary County crews responded Monday after receiving a call that a man had been found dead in the river.
Update:
Sheriff David Kramer said Wednesday that Harston was running the river solo on a cataraft while his three companions were in a raft.
"The other raft had flipped, too, but they were able to swim to shore," Kramer said. "They said they went around a point where they thought they would find him, but saw him floating down the river face down.
"They said said (Harston) was the most experienced rafter in the group and was well outfitted. He wasn't wearing a helmet, but there's no indication that had anything to do with his death."
---
---