Wed., Nov. 8, 2017
Colorful kokanee part of fall colors viewing spectacle at Sullivan Lake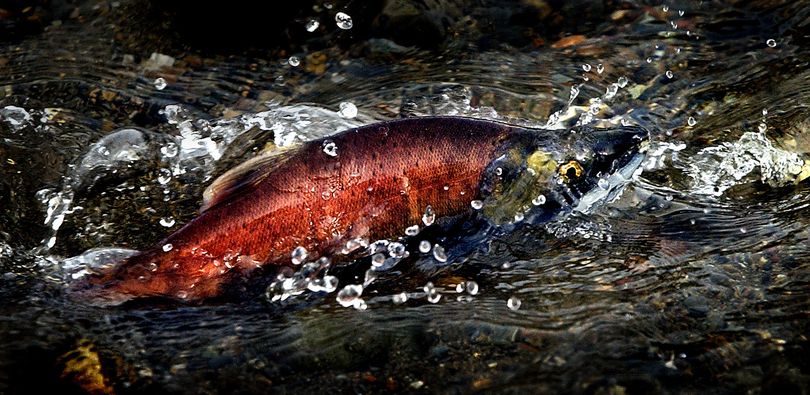 FISHERIES -- Sullivan Lake is a great option for getting out to enjoy what's left of fall colors -- on the forest and on the fish!
The Western larch needles are yellow and the crimson-colored kokanee are running from the lake into Harvey Creek where they are ripe for easy viewing.
Huge schools of these bright red beauties can be seen from the bridge or creek bank at the south end of the lake as the fish pair with mates for spawning.
Great hiking options also can be found around Sullivan Lake, including the Shoreline Trail. Check out Day Hiking Eastern Washington for route descriptions, although some trails are under snow this week and a few are in areas charred this summer by the Noisy Creek Fire.
"This intense and exciting event is important to the survival of the species," says Franklin Pemberton of the Colville National Forest. Visitors are asked to avoid harassing the fish or disturbing the stream bed.
The run typically lasts until the middle of December.
Females dig a redd (deposit site) to lay eggs and within a few days die. Their decaying bodies provide nutrients to the creek and Sullivan Lake vital to the growth of plankton and insect life that will feed next year's young. The dying salmon also feed animals like bald eagles, raccoons, and mink. Kokanee eggs hatch in February and remain in the gravel until spring where they are swept away into Sullivan Lake to start another cycle.
DIRECTIONS: From Highway 31 south of Ione, take County Road 9345 toward the Sullivan Lake Ranger Station and Sullivan Lake. The bridge over Harvey Creek is at the south end of the lake. Harvey Creek is closed to fishing.
Info: (509) 446-7500.
---
---