Mon., Nov. 13, 2017
South Hill bluff park and trails in spotlight at BLUFF Talks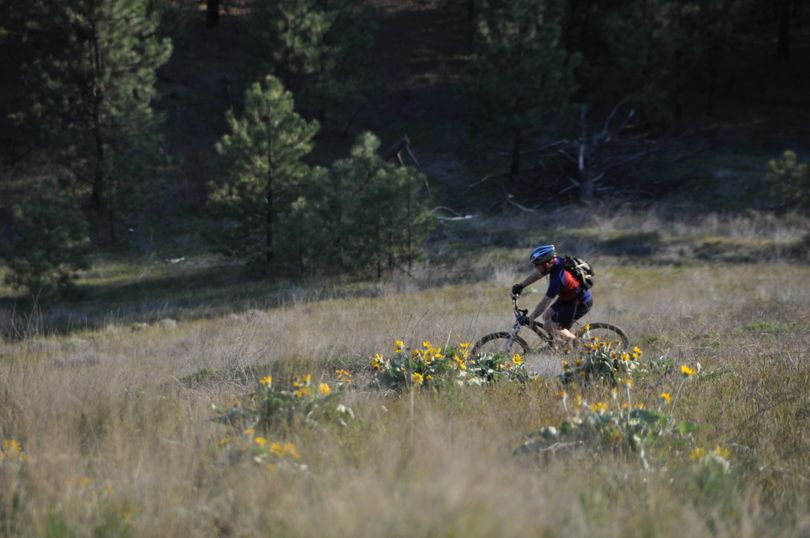 PARKS – Speakers will take 10 minutes apiece this week to tell personal stories or offer perspectives on what connects the public to the trails and natural area of High Drive Bluff Park, better known as the Spokane's South Hill bluff.
BLUFF Talks, a fundraiser for Friends of the Bluff, is set for 7 p.m. Thursday, Nov. 16, at Lincoln Center, 1316 N. Lincoln.
Speakers, each with a different perspective of the bluff and its 24 miles of trails, include:
Jack Nisbet, a local author, naturalist and historian, speaking on "the (really) early days of Hangman Creek."
Pat Keegan, president of Friends of the Bluff, speaking on the group's projects and why they matter to the public.
Nate Hutchens, trail builder with Evergreen East Mountain Bike Alliance, speaking on how the club strives for single-track trail nirvana in Eastern Washington.
Leroy Eadie, Spokane Parks and Recreation director, speaking on plans the city has for the Bluff and its other open-space parks.
Guy Gifford, Department of Natural Resources Firewise coordinator, speaking on programs to confront the threat of wildfire on the bluff.
Gunhild Swanson and Chris Morlan, a mother-son duo of accomplished runners, speaking on bluff trails as a training ground. Swanson is a 72-year-old world-class ultrarunner. Morlan's a Brooks-sponsored ambassador and coach of the Spokane Distance Project.
"There'll be good stories, good company and good beer, all for a good cause," such as trail work, tree thinning, weed control and litter pickup, said Marit Fischer, Friends of the Bluff board member, noting a $10 donation is suggested.
---
---