Banff Mountain Film Festival lineup set for Spokane shows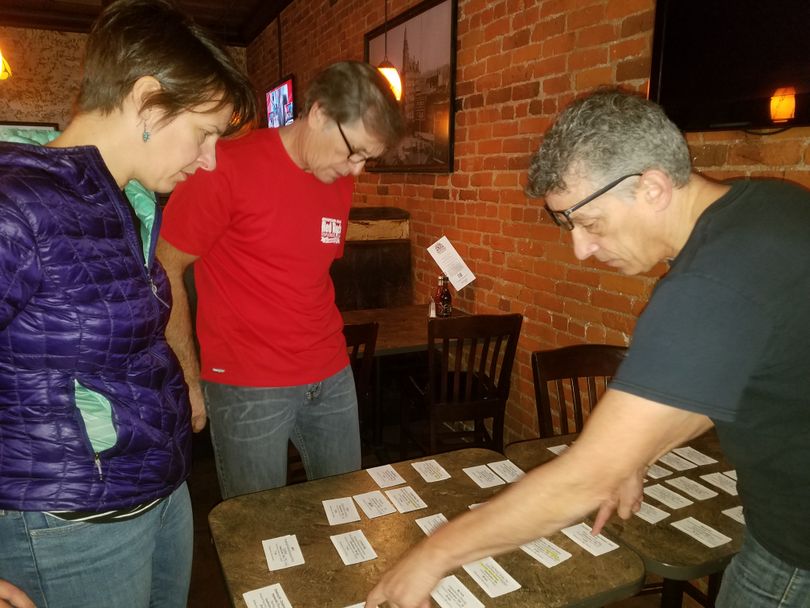 OUTDOOR FILMS -- The Banff Mountain Film Festival World Tour lineup of films starting tonight in Spokane was decided this afternoon, and ticket holders should be thrilled with the mix of adventure, adrenaline, culture and humor.
Of around 35 festival films authorized so far for the 2016-2017 tour, 25 will be screened in Spokane during the three-day run at the Bing Crosby Theater. All three shows are sold out.
The films were selected around noon by Phil Bridgers of hosting Mountain Gear along with World Tour hosts from Banff. Spokane's shows are among the first screenings from the recent festival in Banff, but Paul Price and Suzanne White have been able to gauge audience reaction at several shows, including two nights in Kalispell.
Bridgers took into account personal impressions he brought home from viewing the films in Banff as well the World Tour hosts' notes on the biggest applause and reactions from audiences in Montana last week. Spokane will see everything that was a hit it Montana -- and more!
Before reading the list of films showing in Spokane, check out the always-exciting 2017-2018 World Tour trailer to see captivating snippets from the flicks:
Here's what you'll see if you thought ahead and bought tickets for the wildly popular sold out shows in Spokane.
2017 BANFF FILMS LINEUP for SPOKANE
Friday, November 17
For The Flying Frenchies, thinking out of the box isn't a choice – it's a way of life, 3 minutes.
As a young adult, Jon Wilson lost his leg to cancer. Mountain biking has played a critical role in helping him sink his teeth back into life, 6 minutes
American skier Aaron Rice sets out to ski 2.5 million, human-powered, vertical feet in the backcountry and set a new world record, 22 minutes.
BREAKING 60 – CHALLENGING THE IMPOSSIBLE
A 298-kilometre battle with over 14,000 meters of elevation gain in hills around Hong Kong, Breaking 60 follows the hopes of four ultrarunners who have one 60-hour goal in mind, 35 minutes (edited).
Poetic, artistic and inspiring, ride along as we traverse volcanic fields, explore hidden lava caves, and race down rivers of ice, 6 minutes.
At the ripe old age of 90, Yvonne Dowlen has been ice skating for as long as she can remember. Edges is a celebration of a life lived well, 9 minutes.
Four friends set out on an adventure to be the first to highline in one of the most unlikely of places: the Faroe Islands, 17 minutes.
Forty-three countries down, Hera van Willick rides her bicycle across continents, full self-supported, sharing her journey and what she has learned along the way, 8 minutes.
Maureen Beck has never let the fact that she is missing her lower left arm hold her back from climbing. She doesn't want to be considered a good one-armed climber, or a good female climber…she just wants to be a plain good climber, 25 minutes
Saturday, November 18
There's an ongoing discussion of why there aren't more females in the adventure industry; whether it's in big mountain skiing, climbing, or whitewater kayaking. Well, it's about time we found out Where the Wild Things Play! 4 minutes.
Each fall our skies fill with the wings of migrating raptors, a migration that relies on two hemispheres worth of wild and healthy ecosystems. Join ecologist and filmmaker, Charles Post, as he shines a light on the network of backcountry scientists and sentinels at the front lines of raptor conservation, 16 minutes.
Into Twin Galaxies - A Greenland Epic
Three National Geographic "adventurers of the year" embark on an insane kayaking mission in Greenland. With kite skis they tow their white water kayaks over 1000 km of the Greenland Ice Cap to reach the most northern river ever paddled, 52 minutes.
Two girls from Ecuador have a dream of building their own dirt jumping track in their backyard. So they get to work, 7 minutes.
Junior Walk, an anti-coal activist in southern West Virginia, takes us through his battle with mining companies and why he believes mountaintop removal methods should stop immediately on this land that he loves, 19 minutes.
Ben Page sought an adventure of perfect solitude in the Canadian Arctic. Yet the harsh truths of travelling in such a formidable environment were a long way from the romanticisms of a Jack London book, 24 minutes.
For freediver Johanna Nordblad diving under the ice provides a surreal, calming environment that helps heal her injuries, 4 minutes.
Have you ever been that little kid sitting in the back seat of your parents' car, wishing you were somewhere else? So you imagine a skier on the side of the road, your fingers commanding back flips and roof drops, improbable rail slides and huge airs. Well, what if your imagination came to life? 5 minutes
Sunday, November 19
Mountain biker Micayla Gatto takes the viewer into her world as a painter and as an athlete, riding through beautifully created masterpieces where colours come to life and reality blends with art, 5 minutes.
Through the lens of one of New Zealand's most important cultural symbols – Pounamu – two women, Robyn and Hollie, attempt to tackle the world's oldest adventure race: The Kathmandu Coast to Coast, 26 minutes.
For climber, skier, and guide Leighan Falley, the mere sight of the Alaskan wilderness elicits an insatiable wanderlust. To reconcile her adventurous spirit with the demands of parenthood, she would need to learn to fly, 9 minutes.
Maule Dhan Rai is the last man in the remote Nepal village of Saadi who's been visited in a dream by a wrathful forest spirit called Rongkemi. If no one else in the village has the dream, a generations-old tradition may die, 24 minutes.
Iceland. A cold, rugged and forbidding landscape where powerful rivers plunge through bedrock gorges, over massive waterfalls toward the sea. A crew of French kayakers travel here to ask the question, "Why? Why do we do this?" 7 minutes.
Originally from Montreal, Conor falls in love with the northern way of life, and a woman, in the Canadian Arctic. Now the young father helps to pass on the native traditions and ancestral culture to his son, as he learns them himself, 15 minutes.
Brad Gobright is beyond bold. From his runout and poorly protected trad climbs to his unimaginable free solos, watch as Gobright recovers from a back-breaking fall and attempts some of the hardest ascents of his career, 29 minutes.
Try to keep up to freerider Sam Favret as he gives us a new perspective of the mythical Mer de Glace, at the heart of Mont-Blanc, 3 minutes.
---
---